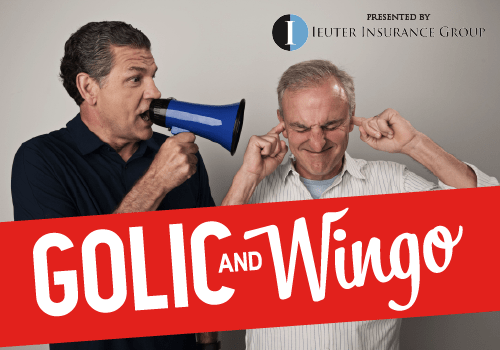 Featuring co-hosts Mike Golic and Trey Wingo, "Golic & Wingo" is ESPN's personality-driven sports talk morning drive show that airs 6-10 a.m. on ESPN 100.9-FM.
The program, which teams sports broadcasting legend Golic together with longtime NFL host Wingo, also will have Mike Golic Jr., who hosts his own national ESPN Radio show (First and Last) and has been a frequent contributor on other ESPN Radio programs, joins the show for one hour daily.
A member of the National Association of Broadcasters Broadcasting Hall of Fame, Golic currently serves as one-half of ESPN Radio's morning duo, Mike & Mike (with co-host Mike Greenberg), which has aired since January 2000. The long-running program set the bar for sports talk radio. Golic hosted the first iteration of ESPN's morning drive show – The Bruno-Golic Morning Show – with original ESPN Radio voice Tony Bruno.
He joined ESPN in 1995 as an NFL studio analyst after a nine-year career in the NFL as a defensive tackle. Golic is a 1985 graduate of the University of Notre Dame where he served as captain of the football team during his senior season and also wrestled for the Irish.
Wingo has been one of the primary figures in ESPN's year-round coverage of the National Football League. He joined ESPN in November 1997 as an anchor for ESPNEWS and has served as host of NFL Live since its inception in 2003. He is the host of ESPN's multi-day NFL Draft coverage. He added NFL Sundays in 2015 as host of NFL Insiders: Sunday Edition and he assumed the host role of ESPN's long-running highlight show NFL PrimeTime in 2007. Wingo hosted The NFL on ESPN Radio, a day-long update, interview and analysis program on NFL Sundays (2001-03). Wingo graduated from Baylor University in 1985 with a bachelor's degree in communications.
Golic, Jr. has hosted shows on ESPN Radio since 2015. Like his father, he is a graduate of Notre Dame and played college football for the Irish.