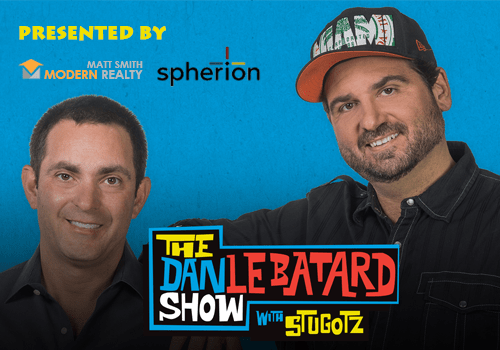 The Dan Le Batard Show airs weekdays from 10 a.m. to 12 p.m. on ESPN 100.9-FM. The three-hour show is co-hosted by Le Batard and Jon "Stugotz" Weiner and is based in Miami. Le Batard offers provocative opinion and conversation to ESPN Radio's national audience through a lineup of well-known guests, humor and reaction to the day's news.
Le Batard hosts ESPN's Highly Questionable weekday afternoons at 4 p.m., along with his father Gonzalo "Papi" Le Batard and Bomani Jones.
Stugotz co-hosts Fantasy Focus on ESPN Radio. The weekly four-hour show on Sundays is co-hosted by Dave Rothenberg and Eric Karabell. The program prepares listeners for the day in fantasy football with last-minute lineup suggestions, injury updates and analysis of who is having the best season at each position.
In 2013, Le Batard brought his local radio show – heard on The Ticket in Miami since 2004 – to ESPN Radio's national audience from 4–7 p.m. Le Batard joined ESPN The Magazine's staff as a contributor in February 1998.
Le Batard continues as a columnist at the Miami Herald, where he has been since 1990. His work also appears regularly on ESPN.com. An accomplished writer, he has won several Associated Press Sports Editor (APSE) awards. Le Batard also has written for numerous national publications, including Maxim and Cosmopolitan. A 1990 graduate of the University of Miami, Le Batard received a bachelor of arts degree in journalism and politics.
Jon "Stugotz" Weiner has served as co-host of The Dan Le Batard Show since 2004. A sports broadcasting veteran of more than 15 years, Stugotz provides his own passionate takes on the sports news of the day, often the opposite of Le Batard's opinion, and is known for his self-deprecating humor. Stugotz received his bachelor's degree in English and communications from Clark University in 1995.