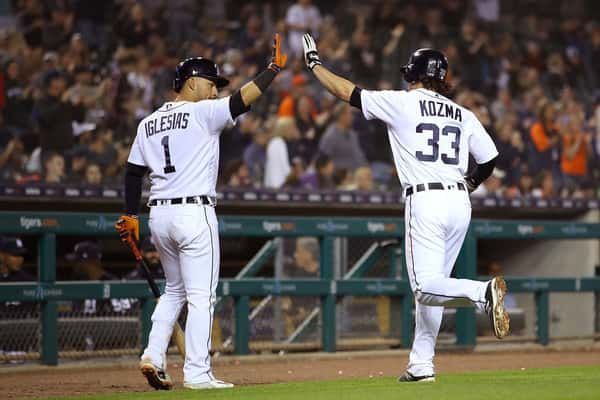 By @EvanPetzold
On a 45-degree overcast night at Comerica Park, Marco Scutaro ripped a one-run line drive single to center field off Phil Coke in the 10th inning, which proved to be the winning run for the San Francisco Giants to complete a 2012 World Series sweep against the Detroit Tigers.
Since then, nothing has been the same in the Motor City.
The Tigers made the postseason in 2013 and 2014, losing to the Boston Red Sox in the American League Championship Series and getting swept by the Baltimore Orioles in the American League Divisional Series.
While names and jersey numbers have changed since 2014, one thing has remained constant – Detroit has not been back to the playoffs.
Coming into the 2018 season, coaches, players, and fans of the Tigers were in a quandary about the future because it was, as new manager Ron Gardenhire called it, a "rebuilding" year.
Detroit no longer has star names like Ian Kinsler, J.D. Martinez, Justin Upton and Justin Verlander, but somehow, someway, the team is making it work. Some people would call it small ball.
The Tigers are rolling with a starting lineup of Mikie Mathook in left field, Victor Reyes in centerfield and Nicholas Castellanos in right field. The infield consists of Pete Kozma at third base, Jose Iglesias at shortstop, Dixon Machado at second, John Hicks at first and James McCann as the catcher. Victor Martinez, at 39 years old, is the designated hitter and has not earned a hit in his last 15 at-bats.
Niko Goodrum also contributes in the outfield and Grayson Greiner helps out behind the plate when Hicks or McCann need a day off.
Without the regular presence of injured Jeimer Candelario, JaCoby Jones, Miguel Cabrera and Leonys Martin, Detroit is still in contention and doing it with swagger.
Detroit is 19-23 and only 2.0 games back in a depleted American League Central Division. The Cleveland Indians (21-21) are in first place, followed by the Minnesota Twins (18-21). The Tigers are 5.5 games back in the AL Wild Card and are unlikely to finish in the top two spots, currently held by the Red Sox and Los Angeles Angels.
Essentially, Detroit's only chance to make the playoffs is through the AL Central. If the Tigers are just a few games back at the trade deadline, does the team buy or sell?
The answer is difficult but important – The team still needs to get rid of top contributing players on short contracts to continue building the farm system.
Francisco Liriano, Martinez and Iglesias are all key options for trades, as 2018 is their final season under contract with the Tigers. Detroit spent half of 2017 rebuilding, so trading away prospects is probably not on general manager Al Avila's mind.
However, trading for more prospect has to cause the green light to go off in Avlia's brain.
Last season, Liriano was dealt from the Toronto Blue Jays to the Houston Astros at the deadline for Norichika Aoki and Teoscar Hernandez.
With Liriano's stock continuing to rise, there is no reason the Tigers could not trade him for someone like Hernandez, who is hitting .261 with six homers and 15 RBI in 28 games for the Blue Jays this season. Also, if the Blue Jays could get an MLB-ready player for Liriano, the Tigers should be able to nab a few middle to lower-tier prospects.
Another trade candidate is Martin. He is on a short contract and is shaping up to have decent value around the deadline. Martin, packaged with Iglesias or Martinez, could bring in a valuable pitching prospect to bolster the rotation or bullpen of the future.
Staying in close contention would provide the Tigers leverage. For example, if the Tigers are in contention, it is common sense that players would be playing well, thus providing more options to trade.
Detroit has a tough set of games late in May and early in June, playing a four-game series against the Los Angeles Angels, two-game series against the New York Yankees, three-game series against the Boston Red Sox and a three-game battle against Cleveland. Those games span from May 28 to June 10.
Last season, the Tigers were 29-29 on June 7, but fell to 64-98 by the end of the campaign.
To go with a tough upcoming schedule, it would be pointless for the Tigers to make an attempt to greatly improve their roster. Last season, Detroit complied many top prospects near the deadline, which it would not want to part with due to a lack of developmental opportunities. The sample size for recently acquired players in the Tigers organization is just too little for trades to be made.
From Diamondbacks: Dawel Lugo (No. 12), Sergio Alcantara (No. 24), Jose King
From Cubs: Isaac Paredes (No. 7)
From Angels: Grayson Long (No. 15), Elvin Rodriguez / Troy Montgomery (No. 25)
From Astros: Franklin Perez (No. 1), Jake Rogers (No. 5), Daz Cameron (No. 9)
In order for Detroit to get a player like J.D. Martinez or Upton back on the roster, a trade involving at least two of the top five Tigers prospect would likely be necessary, making it an irrelevant move to make because one player would not set them up to be World Series favorites.
Once the farm system develops and the Tigers have a clear opportunity to win a championship, buying big name players at the deadline makes sense.
As for now, Avila needs to continue the rebuilding process and trust it.