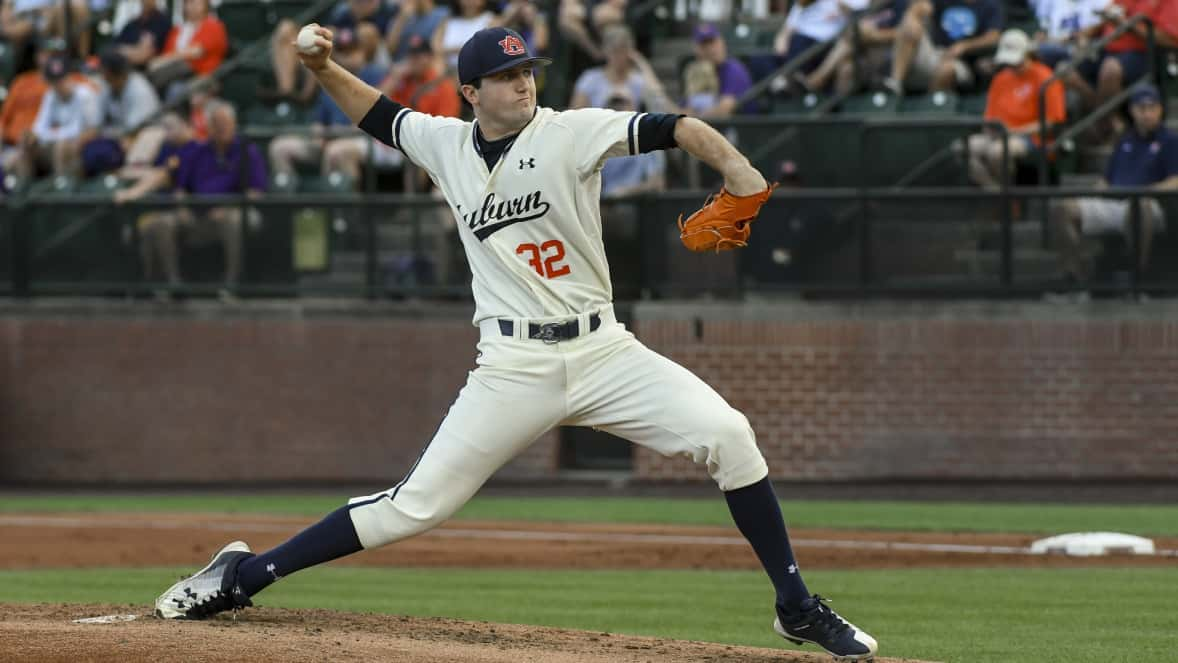 By @EvanPetzold
Auburn right-handed starting pitcher Casey Mize is the answer for the Detroit Tigers at No. 1 overall in the 2018 MLB Draft.
Here's why.
Pitching Arsenal
Mize, at 6-foot-3, 220 pounds, throws a fastball, splitter, slider, and cutter. His fastball sits in the low-to-mid 90s, topping out at 97 miles per hour, and his splitter is usually thrown around 85-89 mph.
The most impressive part of Mize's arsenal is his ability to throw three plus pitches in the fastball, splitter, and cutter. On top of his mix of pitches, Mize has plus control.
Judging off his 301 strikeouts in his career for Auburn, Mize has hit-and-miss stuff. At the same time, the right-hander rarely walks hitters. In 247.2 innings pitched, he has allowed just 37 walks.
Like some of the great pitchers, Mize can overpower hitters with his fastball. He is not the type to throw continuous off-speed pitches. For example, former Detroit Tigers ace Justin Verlander blew hitters away with his fastball for years in the Motor City. Instead of using multiple changeups, which Verlander usually dominated with, he would continue to mix in fastballs.
When Verlander struggled in 2014, it was clear his fastball usage was at a low-point, relying on too many off-speed pitches. After being traded to the Houston Astros in 2017, Verlander went back to his roots and is now arguably the best he has ever been at the age of 35 years old.
In 11 starts in 2018, Verlander owns a 6-2 record with an MLB-best 1.08 ERA. During the 2014 season, the right-hander threw 1,896 fastballs. In 2015, he threw 1,258 fastball pitches. In 2017 for the World Series champion Houston Astros, he threw 2,055 fastballs.
Just like Verlander, Mize has the power to overpower hitters with his fastball and turn to an off-speed pitch to keep them off-balance. As long as he executes his pitch selection correctly, the sky is the limit at the MLB level.
College Career
Mize has been the clear-cut ace for Auburn during the 2018 baseball team, posting a 9-4 record with a 2.94 ERA. He has tossed three complete games and one shutout over the course of 14 starts and 95.0 innings pitched.
The right-hander has struck out 133 hitters and allowed just 10 walks, which is phenomenal for any pitcher at any level.
Playing at Springville High School in Alabama, Mize went 19-2 throughout his high school career. As a senior, he went 3-0 with a 1.83 ERA and 34 strikeouts. He was ranked No. 300 in the nation, No. 4 in the state of Alabama and was the 108th-best pitcher in the nation.
Now, Mize is one of the best pitchers in the 2018 MLB Draft.
In his 2016 freshman season, the talented righty made 16 appearances with seven starts. Even as a first-year college player, he led the team with a 3.52 ERA. He posted a 2-5 record with one save and led the team with 59 strikeouts in 69.0 innings pitched. Against Michigan State in his first career start, he struck out eight hitters in 7.0 innings.
The following year, as a sophomore, Mize once again led the team with an 8-2 record, logging a 2.04 ERA, which finished the season ranked 25th in the nation.
Mize was named to the Golden Spikes Award Watch List for his performance as a sophomore but did not win the award.
Drive to Succeed
When Mize was 12 years old, he told his mother not to buy him an Xbox or PlayStation, as reported by The Athletic's Max Bultman. Mize did not want a single distraction on his way to becoming the best.
His mother believed in him, even once telling him to fail a school assignment and pursue his dream. As a junior in high school, Mize was assigned to write a paper about what he wanted to do as a career. So, he wrote about being a professional baseball player.
The teacher said it was unrealistic and that he should change his topic. His mother told him to take the failing grade – he did.
"I told him to do the paper on being a pro ballplayer anyway, and we would just take the consequences as they fall," she told Bultman. "And she did fail him. But that was OK."
Through avoiding video games and even taking a failing grade, Mize has always had the drive to be successful. He wanted it more than anyone – even his brother Cody, who was a better athlete growing up.
With the perfect pitching arsenal, lucrative college career and obvious drive to be successful, Mize should not just be an option – he should be the only option for the Tigers with the No. 1 overall pick.