After an NCAA Tournament title, seven Final Fours, eight Big Ten regular-season championships and five Big Ten Tournament titles, it's clear – Michigan State head coach Tom Izzo is more successful on the court than Michigan's John Beilein.
However, coaching encompasses more than just winning games. It includes recruiting, development and building a culture.
Success
Achievements – Izzo has more of them. Beilein, while not coaching at Michigan for as long, has less of them. Since Izzo joined the Spartans as the head coach in 1995, Michigan State has owned its in-state rival, until just recently.
At 63 years old, Izzo has seven Final Four appearances. Beilein, 65, has two. Even if Beilein coaches for five more years, he would have to win an NCAA TOurRegional in each season – both unrealistic and unlikely. Beilein will never catch Izzo in many of the major coaching accomplishments, as he has been coaching the Wolverines for 11 years opposed to Izzo's 23 years with Michigan State.

Even if Beilein's numbers were doubled, closely emulating Izzo's tenure with the Spartans, he would have just four Final Four appearances (to Izzo's seven), four Big Ten regular-season titles (to Izzo's eight) and four Big Ten Tournament championships (to Izzo's five).
In the previous two seasons, Beilein's Wolverines have put together a 3-0 mark against the Spartans. Every victory was by double digits. Also, Michigan made a run to the 2018 NCAA Tournament National Championship, losing to Villanova. Michigan State was knocked out of the Big Dance in the second round.
Izzo has the track record. Beilein has the recent success. The question – which one outweighs the other?
When people make comparisons between Michael Jordan and LeBron James, it always comes down to championships. MJ has 6, LeBron has 3. The Bulls star was a perfect 6-for-6 in the NBA Finals, while LeBron is 3-for-9.
Awards matter. Down the road, nobody will evaluate Beilein for his three-straight wins over Izzo. The same way nobody recollects Izzo beating Beilein four-straight times from March 2014 to January 2017.
Everyone remembers Izzo's seven Final Four appearances. Everyone remembers his 2000 National Championship. Also, everyone remembers Izzo's induction into the Basketball Hall of Fame in 2016.
Recruiting
Plain and simple, Beilein does more with less. Frankly, that's more about development and less about recruiting.
The Michigan coach's last five-star prospect was Saint John (Ind.) Lake Central small forward Glenn Robinson III, who was the 17th overall player in the 2012 class. Even Trey Burke from the 2011 class and Mortiz Wagner from 2015 were just four-star prospects. Or, how about having the guts to bring in Division III transfer Duncan Robinson and allow him to play a pivotal role throughout his Michigan tenure? It's monumental, but Izzo gets more from the start.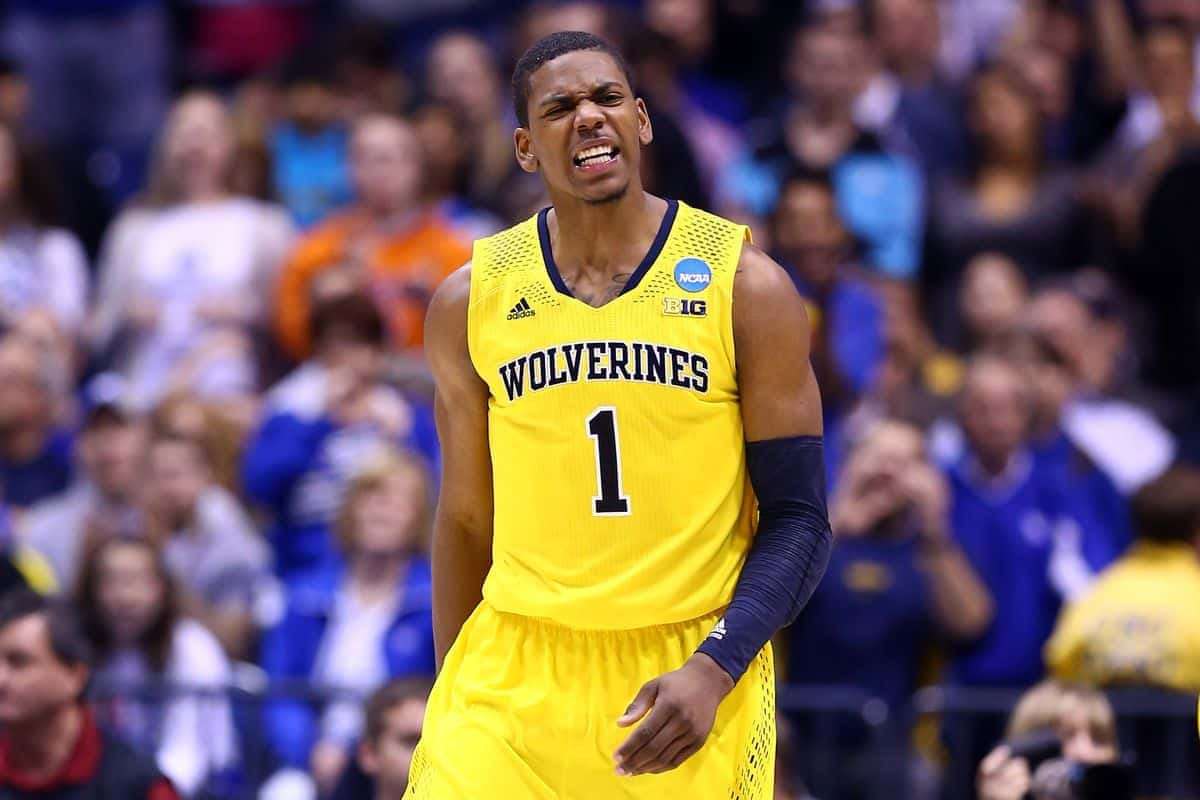 Michigan State's 2016 class consisted of two five-stars in Miles Bridges (No. 12) and Joshua Langford (No. 19). Izzo also added highly-ranked four-star prospects Cassius Winston (No. 31) and Nick Ward (No. 42). Jaren Jackson, a five-star rated No. 8 in the nation, was added in the 2017 class.
Even though Beilein does more with less, Izzo is more vigorous on the recruiting trail. He is able to bring in top 10 prospects on an annual basis. But, recruiting is not always all about stars, rankings, and projects – it's about finding the diamond the rough.
Beilein has managed to find college stars in multiple lower-rated prospects, including former two-star shooting guard Muhammad-Ali Abdur-Rahkman, three-star point guard Spike Albrecht, three-star Tim Hardaway Jr., three-star small forward Zack Novak and three-star guard Stuart Douglass.
For reasons known and unknown, Izzo has the leg up in recruiting. He is able to constantly bring in the top players in the state of Michigan, along with multiple top 50 recruits in virtually every class. He is unstoppable when bringing players into the fold.
When looking at high school athletes, being guaranteed a successful collegiate career in terms of wins and losses and championships is imperative. Izzo, with a much longer track record of success, has used the National Championship, Final Four appearances and Big Ten accolades to set himself apart – as any expert recruiter would do.
Beilein has never brought the top player in the state of Michigan to his university. Izzo has done it six times since 2007.
Izzo is clearly a superior recruiter, but development is where it gets alluring.
Development
Izzo has had 18 total players drafted and nine first-round picks, of which one was in the top 10. Eight Beilein players have been selected in the NBA Draft, six of them have gone in the first round and two of those six in the top 10.
Before jumping to conclusions, remember Izzo has coached Michigan State for 23 years and Beilein has been at Michigan for just 11 years.
While Izzo may have developed a player like Draymond Green into the player that he is, Beilein has done more. Players that were never supposed to be first-round picks turned into top selections like Tim Hardaway Jr. (No. 24) in 2013, Mitch McGary (No. 21) in 2014, Nik Stauskas (No. 8) in 2014, Caris LeVert (No. 20) in 2016 and D.J. Wilson (No. 17) in 2017. None of those players were expected to be first-round talent out of high school.
Players expected to go in the first round before being coached by Izzo include Mateen Cleaves, Jason Richardson, Zach Randolph and Gary Harris. Nobody ever envisioned Beilein to put a handful of players into the first round.
Beilein has clearly done more with less. Izzo inherited talent but only truly developed a few players.
Building a Culture
In a survey from CBS Sports in 2017, Beilein was voted the cleanest coach in the NCAA when 100 other coaches were asked. Beilein merited 26.6 percent of the votes. Izzo was tied for sixth place with 4.8 percent.
"John Beilein is a by-the-book, letter-of-the-law guy," a fellow NCAA coach told CBS Sports. "LETTER-OF-THE-LAW. You get two hours to work out guys for the week. If he works out a kid and, say, they go one hour and one minute, he's going to start the next time with 59 minutes on the lock and go 59 minutes. That's the truth."
ESPN's Outside the Lines published an investigation into the Michigan State athletic department on Feb. 1, 2018. One of the findings included Spartans basketball star Travis Walton, who won Big Ten Defensive Player of the Year in 2009. While on Izzo's staff as an undergraduate assistant in 2010, he allegedly punched a woman at a bar. He was allowed to travel with the team even after being arrested.
During the same month, Walton and two Michigan State players were accused of sexually assaulting a Michigan State female student. Four months later, Michigan State's Adreian Payne and Keith Appling were accused of sexually assaulting a female during a game of miniature basketball. No charges were filed.
According to Yahoo! Sports' Pat Forde and Pete Thamel's report, an agent during the 2016-17 season paid for a meal for the family without Bridges' knowledge. The dinner was $40. With Izzo at the helm, Michigan State self-reported the violation and declared Bridges ineligible.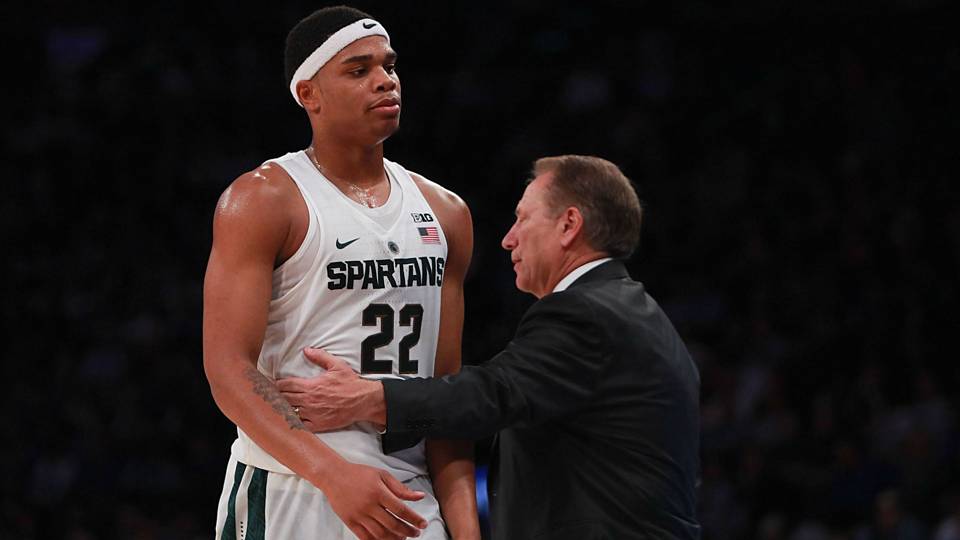 "If people are committing felony crimes in our business, then get them the heck out of our business," Beilein said Oct. 4. "If that's what's happening."
While it has not been proven if Izzo knew of the alleged sexual assaults or the agent paying for Bridges' dinner, the program is in the middle of a scandal. Beilein, on the other hand, is clean.
"I take a couple showers a day too, so that keeps me nice and clean," the Michigan coach stated.
The Verdict
Beilein might take down Izzo in a few important categories to players attempting to make it to the NBA and the overall culture of his program, but success will always keep Izzo at a higher overall coaching pedigree.