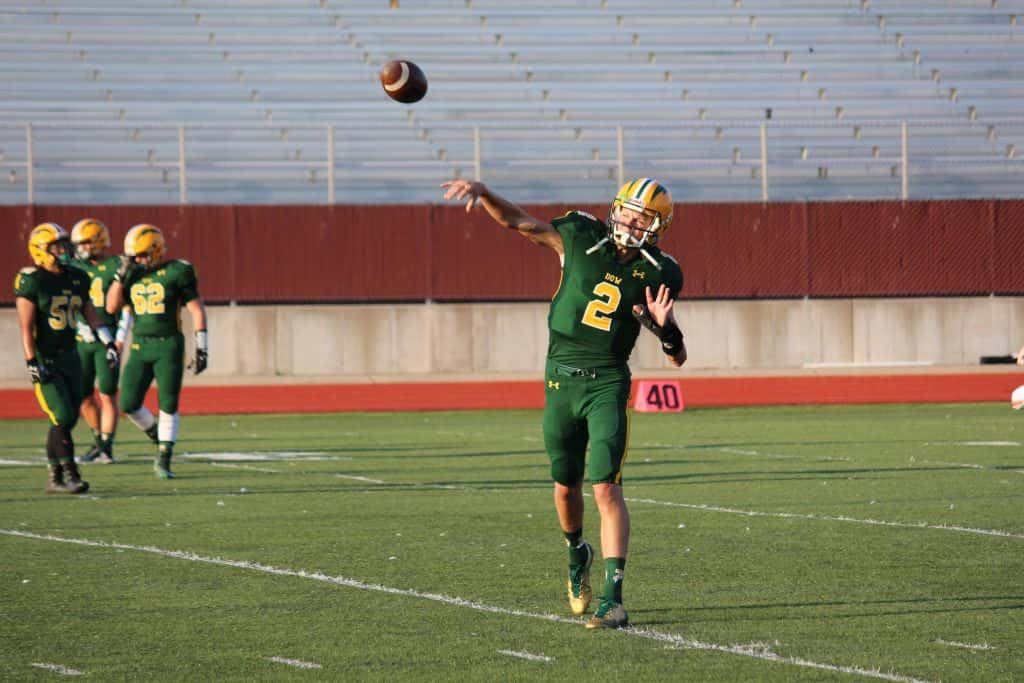 By @EvanPetzold
The Grand Blanc Bobcats are facing a new challenge in the 2018 season – leaving the Kensington Lakes Activities Association for the Saginaw Valley League.
After kickoff against the Midland Dow Chargers at Midland Community Stadium on Thursday, the thoughts of Grand Blanc will switch from joining a new conference to the game itself. More specifically, earning a win in its first SVL appearance.
For Dow head coach Jason Watkins, playing in the SVL is nothing new. His first year with the Chargers was in 2009 and the program has been in the SVL since 1981.
Of its two quarterbacks from 2017, Dow is returning one – senior Shane Astrike. A year ago, Astrike worked with Ben Zeitler in a two-quarterback offense. Astrike carries a significant pocket pass presence, while Zietler was more of a run-pass option type player. Last year, Astrike completed 85-of-134 passes for 1,235 yards, 16 touchdowns and three interceptions. He added 115 yards and two scores on 33 carries.
Even though returning Astrike will provide Dow solid offensive weaponry, arguably the most important player coming back is senior Nick Sierocki.
Sierocki, who plays running back, wide receiver and safety, exploded last season for 65 carries, 475 yards and four touchdowns, along with 33 receptions for 721 yards and nine scores.
"Their offense is like the Wild Wild West because they do a thousand different things," Grand Blanc head coach Clint Alexander said after viewing Dow's Week 9 and 10 game tapes from 2017. "They're able to play fast because they all know the system."
Alexander, in his second season with the Bobcats, is well aware of the offensive fire power of the Chargers. However, since his former school – Woodberry Forest School – game planned against the likes of Russell Wilson, Christian Hackenberg, Dwayne Haskins and Wilton Speight, Alexander is not too concerned.
In Alexander's 12-year tenure at Woodberry, the team went 82-31-1 with eight league titles. 87 players advanced to play college football, roughly seven per year.
Grand Blanc will be led into battle by senior quarterback Ryder Brotebeck, who is starting for Alexander for the first time. Clint's son Colton played quarterback as a junior in 2017 because he was the only one who knew his father's new offense.
Now, it is Brotebeck who will take the reins under center as Colton moves to defensive back, while remaining the kicker.
"The film that we got, Brotebeck came in to do some particular things," Watkins said. "He runs well and throws a good ball. I think he's physical but we don't know if he will be primarily a runner or passer. It seemed like his strength was more as a running quarterback."
Other key players on Grand Blanc's offense include senior Gionni Broughton at running back, four wide receivers – senior Nicholas Erlenbeck, junior Mark Miller, junior Latrell Fordham and senior Ethan Aspberger – and senior tight end Cedric Givens.
Fordham is a transfer from Goodrich High School with college basketball scholarship offers from Georgia Tech, Southern Utah and Southern Miss. Jarrett Short, the starting right guard, was invited to the Hawaii Tiki Bowl in Honolulu. Senior Kortez Toles, one of Grand Blanc's starting cornerbacks, has offers from Central Michigan, Colombia, Morgan State, Brown, Cornell and Bowling Green. Leonard Henry, a senior middle linebacker, has an offer from Cincinnati.
Dow also has playmakers other than Astrike and Sierocki. Watkins' team will look to senior wide receivers Chase Perry, Zack Coon and Kaleb Studebaker. Dow's starting running back is slated to be Avain Rivera, a junior who is an outside linebacker, defensive end hybrid on the other side of the ball.
The 2018 roster for Grand Blanc features a player with a No. 1 jersey. Ryan Woody is the student-athlete who was selected by his teammates for the honor. In Alexander's previous coaching history, he said players would always ask for the No. 1 jersey. Upon arriving at Grand Blanc, he decided to make players vote. In 2017, many voted for themselves or their closest friends. When asked why, most players said, "Because he's my boy." This time around, Alexander received multiple two-page explanations as to why Woody should control the No. 1 uniform for the 2018 season.
The Chargers and Bobcats have never played against each other in school history.
"It's good for us to play teams we don't know," Watkins said. "When you get to Week 10 and fortunately Week 11 and 12, you already know how to prepare for unknown teams."