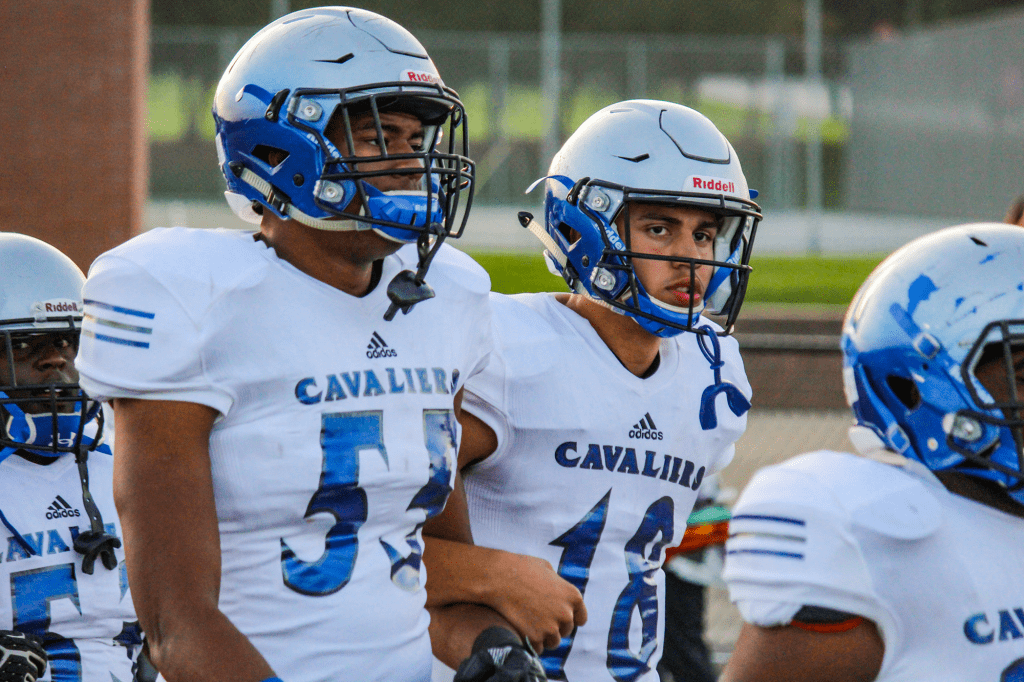 By @EvanPetzold
In their 17-15 loss to Traverse City West last week, head coach Eric Methner noted a few important plays leading to the Midland Chemics inability to earn a season-opening victory.
Those plays included two missed field goals, one missed extra point, a failed two-point conversion and a safety.
"We just made too many mistakes," Methner said. "We had lots of opportunities and didn't capitalize on any of them."
Midland has a chance at redemption in Week 2 against the Carman-Ainsworth Cavaliers at 5 p.m. on Friday. Due to a fire in the press box at Midland Community Stadium, which was caused by storms, the game will be played at Northwood University's Hantz Stadium.
The Chemics (0-1) are led into battle by senior quarterback Kadin Jacobs, who struggled – 12-of-22 passing for 76 yards and one touchdown – against Traverse City West. Senior running back Carter Grove chipped in nine carries for 78 yards and a score.
Facing the Cavaliers (1-0), Methner said his team has keyed in on the Fletcher brothers – Dustin on offense and Michael on defense.
Dustin is a junior quarterback at 6-foot-3, 205 pounds. He has football offers from Central Michigan, Eastern Michigan, Indiana, Kentucky, Northern Illinois, Seton Hill and Western Illinois. He is ranked No. 547 in the 2020 class, No. 15 at dual-threat quarterback and No. 18 in the state.
In the 2017 season as a sophomore, Dustin exploded for 1,468 yards passing going 88-of-174. He registered 13 touchdowns and six interceptions. On the ground, the dual-threat prospect added 81 carries for 328 yards and three scores.
Holding even more accolades is Michael, a senior pledge to join Michigan State for the 2019 football season. He is a four-star prospect and ranked No. 308 in the country.
Michael picked the Spartans on June 29 over Kentucky, Alabama, Georgia, Iowa, Michigan, Nebraska, Wisconsin and nine others. At 6-foot-5, 240 pounds, Michael did not receive most of his offers until the end of his junior season, which could end up being the same for his brother Dustin.
"(Michael) has range and can get to the football often," Methner said. "Dustin is tricky because he can run one way, cut, and start the opposite direction to turn the field around like most high school quarterbacks can't."
Carman-Ainsworth head coach Jerry Parker, believe it or not, has another Fletcher to work with for 2018. Starting linebacker Emmanuel Fletcher, the cousin of Dustin and Michael, is back after being named to the All-Saginaw Valley Red second team last season.
One of the key players catching Dustin's passes will be senior receiver Jakobe Blount. In 2017, he caught 16 passes for 251 yards and one touchdown.
Apart from Jacobs and Grove, two offensive playmakers have emerged for Midland in senior receiver Christian Gordon and junior receiver Tommy Johnstone.
Carman-Ainsworth and Midland have played three times his program history, but not since the 2015 season. The Chemics are 2-1, including the most recent 14-3 victory on Oct. 2, 2015.