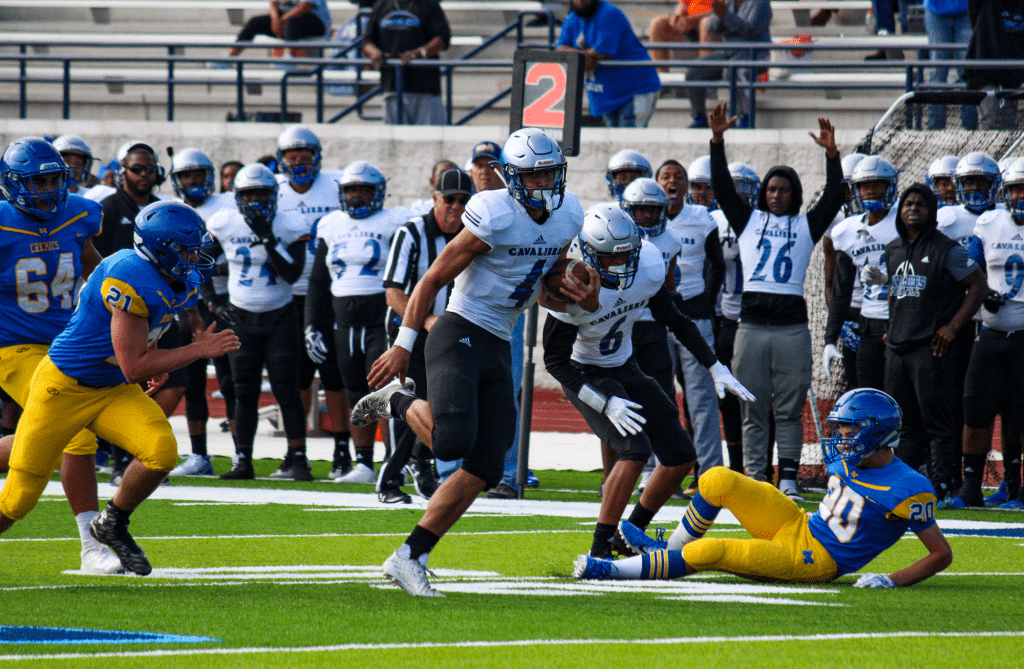 The offensive line for the Carman-Ainsworth Cavaliers gave junior quarterback Dustin Fletcher all the time he needed.
And Fletcher did not disappoint them, completing 10-of-26 passes for 221 yards and three touchdowns in a 21-7 victory over the Midland Chemics on Friday at Northwood University's Hantz Stadium.
As a dual-threat quarterback, he added 17 carries for 94 yards.
"I had a lot of one-on-one opportunities," Fletcher said. "I believe in my guys on anybody. So, if you give me a one-on-one, my guys are going to make the plays."
While Fletcher shredded the Midland defense with his arm, he could not have done it without his top two receivers – seniors Jakobe Blount and Idris Bray.
"They are ballers," he added. "They catch the ball and expect to score. We all do our jobs and just try to remain successful."
Midland jumped out to a 7-3 lead with 1:59 left in the first quarter on a three-yard scamper into the end zone by senior quarterback Kadin Jacobs. He finished 7-of-12 through the air for 32 yards and two interceptions, adding 45 yards and a score on the ground.
Touchdown, Midland!

Quarterback Kadin Jacobs (@kadin_jacobs) runs for a 3-yard score to give @midlandchemics a 7-3 lead over @CarmanAinsworth with 1:59 left in the 1st Quarter. #LocalSportsLeader pic.twitter.com/ZAZkTpsVac

— ESPN 100.9-FM (@ESPN1009) August 30, 2018
Senior running back Carter Grove carried the ball 10 times for 42 yards in the loss.
The Chemics (0-2) never again found the scoreboard.
Immediately following Jacobs' score, Fletcher and the Cavaliers (2-0) marched down the field on an eight-play, 83-yard touchdown drive that was capped off by a 58-yard reception by Blount. In the third quarter, Carman-Ainsworth made it a 15-7 lead on a 45-yard dish from Fletcher to Bray.
Going up 21-7 due to Fletcher's 41-yard touchdown completion to Bray, his older brother, senior defensive end Michael Fletcher, secured the win on an interception with 1:31 left in the game.
Bray finished with five receptions for 130 yards and two touchdowns. Blount added two catches for 66 yards and one score, along with 35 yards on two carries.
"We knew if we could get the O-line solidified, we would be pretty special offensively," said Carman-Ainsworth head coach Jerry Parker. "There are so many guys (Dustin) can throw to."
Dustin is a three-star prospect, ranked No. 554 in the nation, No. 16 at his position and No. 18 in the state. He has offers from seven schools, including Central Michigan, Eastern Michigan, Indiana and Kentucky. Michael, on the other hand, is a four-star Michigan State commit. He picked the Spartans over Kentucky, Alabama, Georgia, Michigan, Wisconsin and 11 others.
The three Fletchers – @DFletch_18, @bigmike810_ and Emmanuel – carried @CarmanAinsworth to a 21-7 victory over @midlandchemics at Hantz Stadium. The trio talked with @eric_vandefifer following the statement win. #LocalSportsLeader pic.twitter.com/QmglQkOgDx

— ESPN 100.9-FM (@ESPN1009) August 31, 2018
During Carman-Ainsworth 14-point win, Michael did a little bit of everything – lining up as a long snapper, slot receiver, tight end, H-back and, of course, defensive end. To go with his interception, he had two sacks.
"We've been working all offseason for this," Michael said. "The whole team is prepared to do our jobs every game."
The Cavaliers head back to Flint for a battle against Davison at 7:00 p.m. on Sept. 7. Meanwhile, the Chemics aim to snap their winless record against Bay City Western at the same time.