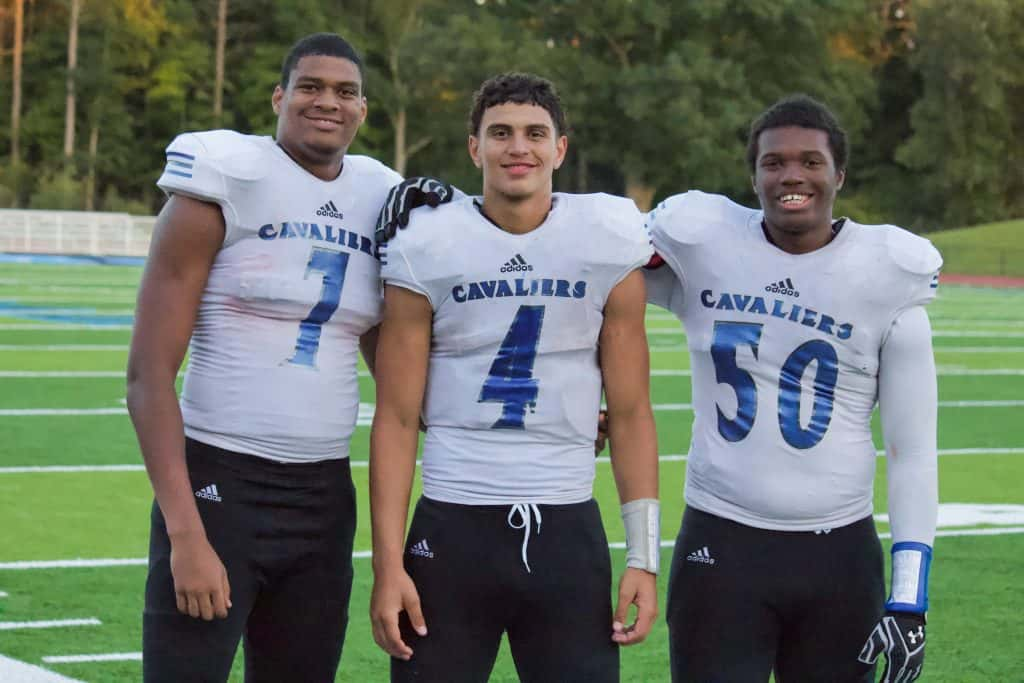 Michael and Dustin Fletcher would have never considered football without their cousin Emmanuel Fletcher.
Michael probably wouldn't be attending Michigan State University on scholarship to play for coach Mark Dantonio next fall, and his brother Dustin likely wouldn't have multiple Division I offers as a junior.
The brothers were strictly basketball players. That's all they were ever going to be, if not for their uncle Fred Fletcher, Emmanuel's father, and his strong persuasion.
"Why don't you sign the boys up for football too," Fred told Michael and Dustin's grandmother, Lenora Reyes, when they were young.
Reyes was hesitant to sign them up, but gave in a few days later.
Even after joining a football team, Dustin quit at nine years old because he was forced to play with the older kids due to his size. Advancing from youth league to middle school, Michael and Dustin's schedules were basketball heavy in middle school with just a bit of football.
"In my freshman year of high school I met all of these coaches (at Carman-Ainsworth) and they said football could be a reality for me," Dustin said. "I kept working hard."
Despite the brothers' inability to find a level of seriousness for football until high school, the two were often in the backyard with Emmanuel, an only child in his family. Regardless of the sport, the three Fletchers were always doing something together.
"We played a lot of tackle football, and Michael was doing a lot of crying," Emmanuel said with a laugh. "Dustin was too. I wouldn't be the person I am today without them. They inspire me to work and do better, plus they keep me on my toes."
Looking past Uncle Fred and Emmanuel, Michael and Dustin both claimed their grandmother as the reason they are thriving in academics, football, and life.
In her 50s at the time, Reyes was presented with the opportunity by state officials to take in Michael and Dustin or allow them to be put up for adoption. The brothers came from an unstable home, and Reyes came to their aid.
She adopted Michael and Dustin, took them into her own home, and treated them as her own children.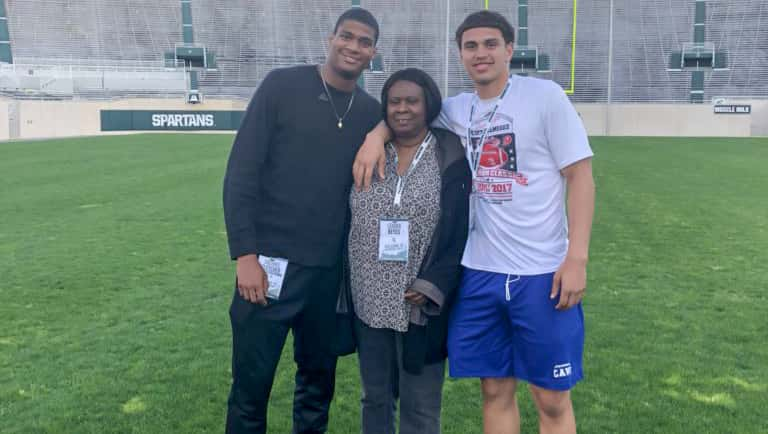 "My grandma is my ride or die, man," Dustin said. "She has done everything in my life and in my brother's life. She helps out our cousins and is the superhero of our lives."
Michael agreed.
"Dustin and I would be nowhere without her," he said. "I do everything I do because of her and for her. She saved our lives."
The underlying goal for Michael and Dustin is to give back to Reyes for all she's done for them. Whether it's football or not, the duo are working in the classroom and on the football field for her – and only her.
Following a long day of school and football practice, Michael usually gets a chance to relax for the first time around 8:30 p.m.
From time to time, as Michael sits down, Dustin barges in for a proposition.
"Come on, Mike. Let's go catch a pass," he often says.
Seeing a bright future in his brother, Michael gets up, puts on his shoes and heads outside with Dustin. Most of the time he doesn't want to play, but the hunger in Dustin's eyes to be the best is all Michael needs to get off the couch.
Turns out, the nights spent playing catch with each other has paid off. Dustin connected with Michael, who is working at tight end on offense for the first time this season, for over 100 yards in Carman-Ainsworth's Week 1 victory against Port Huron.
"To catch a pass that's from someone who has thrown you the ball for your whole life is amazing," Michael added.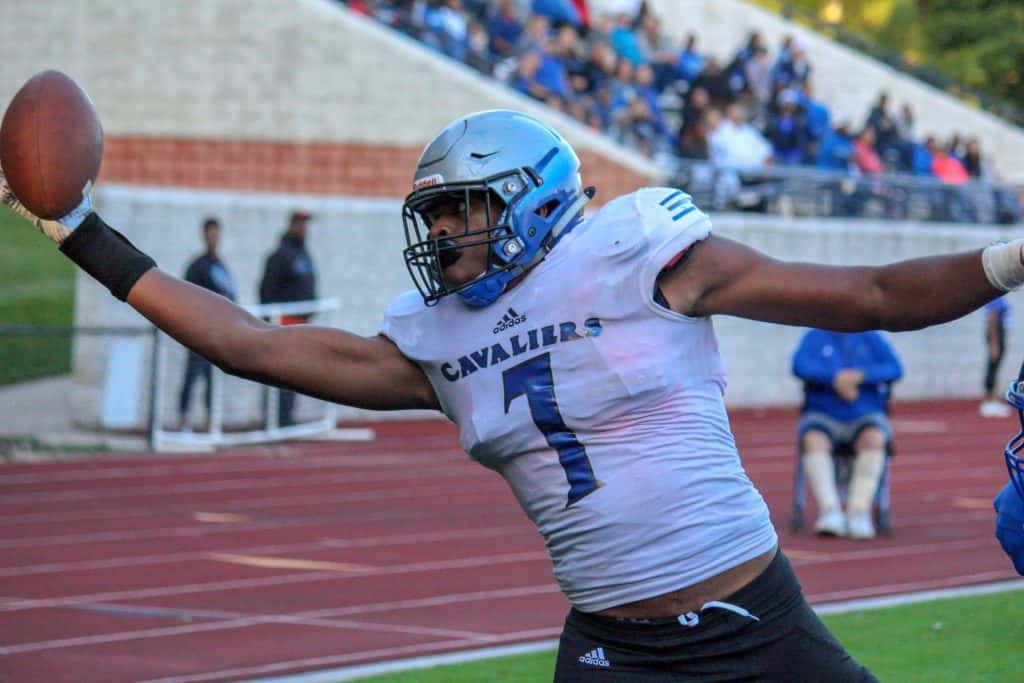 During the 2017 season as a sophomore, Dustin exploded through the air for 1,468 yards and 13 touchdowns. On the ground, the dual-threat prospect added 81 carries for 328 yards and three scores. Dustin also picked up Division 1-FBS offers from Central Michigan, Eastern Michigan, Indiana, Kentucky and Northern Illinois in the process.
"He really worked on himself in the offseason," Michael said of his younger brother. "He worked on the little things with his technique to get better."
Even though Dustin has a few early offers and is likely to add many more to his resume, he does not talk with Michael about college much. The two talk about life and enjoy conversations they will never forget. Michael said it's like having a best friend with him at all times.
Holding each other close since birth, Dustin understands the ultimatum that he may never again play with Michael after the 2018 season for Carman-Ainsworth – unless the Spartans offer and he picks their program.
"We do everything together, and that might change in the future or it may not," Dustin said. "That's my guy."
Michael's junior year in 2017 featured 13 sacks. Upon seeing Michael and Dustin's abilities on the gridiron, Uncle Fred once again talked with Reyes.
"Don't let them boys stop playing football," Fred said to her.
Reyes rarely misses a game and quickly became integrated with Michael and Dustin's recruitment.
Michael took his final visit to Michigan State in May. His grandmother attended the trip to East Lansing and pressed Dantonio and the rest of the coaching staff with questions to make sure the program was the best fit for Michael.
The 6-foot-5, 240-pound four-star defensive end announced his commitment to Michigan State on June 29 at Carman-Ainsworth's gymnasium.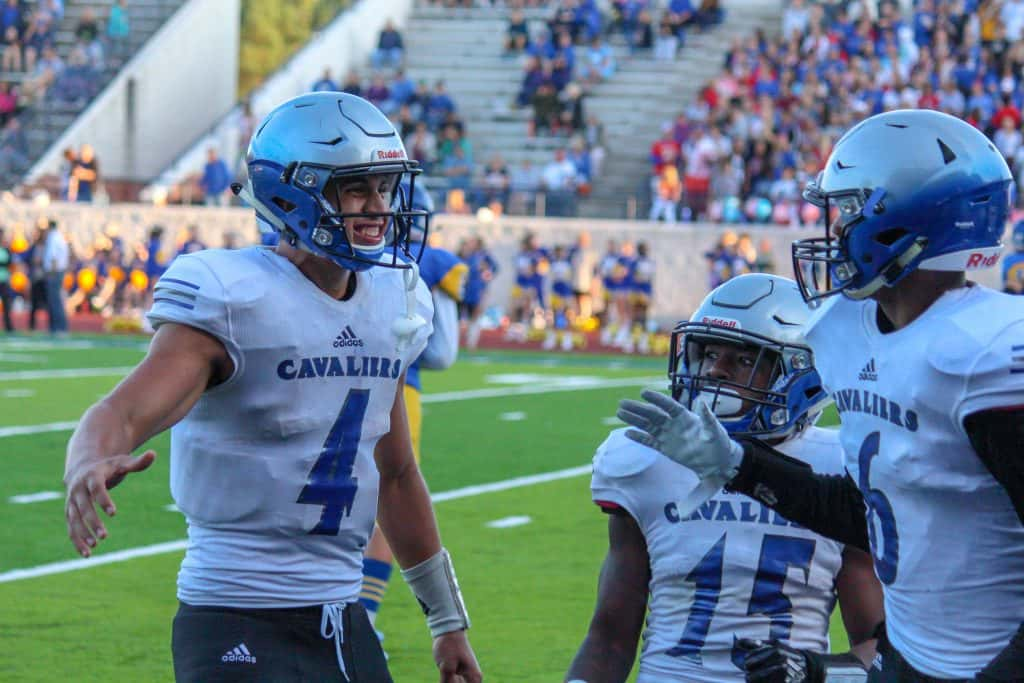 Fast forward to Week 2 of Michael and Emmanuel's senior season of football at Carman-Ainsworth.
Slowly but surely, Hantz Stadium at Northwood University filled to the brim for a gritty battle between the Carman-Ainsworth Cavaliers and Midland Chemics.
It was a road game for Carman-Ainsworth, which made the trip from Flint to Midland. It was also an opportunity to showcase their team – featuring a dynamic offense and defense.
Holding a late 15-7 lead early in the fourth quarterback, a combined four-yard sack from Emmanuel and Michael Fletcher forced Midland quarterback Kadin Jacobs to turn the ball over on fourth-and-three. A few possessions later, Dustin Fletcher made it 21-7 on a 41-yard touchdown strike with 3:35 left to play.
Michael's interception with 1:58 remaining put the nail in the coffin.
Some might say the three Fletchers – brothers Michael and Dustin with cousin Emmanuel – have an advantage since they've been around each other nearly 24/7 since childhood.
"A lot of people just got teammates, but we have family blood on our side," Michael said. "We've been with each other all our lives and this is the last season for us together."
Emmanuel may have stated it best.
"Football or not, we will always be brothers."