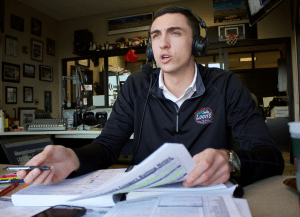 MIDLAND, Mich. – ESPN 100.9-FM is pleased to announce the promotion of Brad Tunney to the station's lead play-by-play broadcaster, and the hiring of Blake Froling as a new play-by-play broadcaster and content coordinator.
Tunney, who has worked with the station and the Great Lakes Loons since 2014, replaces broadcaster Chris Vosters, who is leaving to pursue other opportunities. He will also maintain his current role as the station's program manager. Froling will join the station's Saginaw Valley League football coverage later this month.
"We are excited to have Brad as the new voice of Loons baseball and to add Blake to our team," station General Manager Matt DeVries said. "In his time with us, Brad has exhibited exceptional work ethic and understanding of the impact we can make for sports fans in this area. We're incredibly excited for him and know that he will continue to do a great job for us.
"Blake will be a tremendous addition to the staff and will help us maintain the reputation we've built as the area's go-to place for sports coverage and live local games. These two guys will maintain the high-quality broadcasts our listeners have come to expect.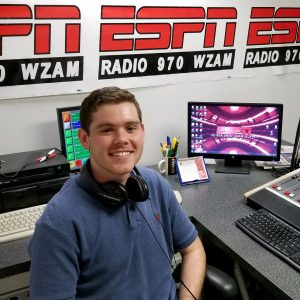 "Chris had four great years with us. We wish him the best of luck in the future and look forward to watching his career in sports broadcasting continue to flourish."
Froling, a native of Troy, Mich., comes to the area after serving as the sports director at ESPN UP 970 AM (WZAM) in Marquette. While there he hosted a daily sports talk show "The Sports Pen," provided play-by-play commentary for high school football and basketball, and hosted weekly coaches shows. During his time as a student at Michigan State University, the 23-year-old worked with the Spartan Sports Network and was the sports director for the student radio station Impact 89FM (WDBM).
Follow Brad on Twitter | Follow Blake on Twitter
"I'm so excited to be teaming up with ESPN 100.9-FM and the Great Lakes Loons," Froling said. "I want to thank Matt DeVries, Scott Litle and everyone else involved for giving me this tremendous opportunity and I can't wait to get started."
With high school football underway, Tunney will remain the lead broadcaster for the station's SVL Game of the Week. He will transition to calling Northwood men's and women's basketball in November before occupying the lead chair during Loons baseball beginning with the 2019 season.
"My high school self would have been elated to see something like this in his future and my current self is just as excited to move into such a role today," Tunney said. "It's an even better feeling knowing I'll be alongside a talented and hard-working broadcaster like Blake, serving a community that cares so much about Loons baseball and all of its other local sports."
Froling will start at ESPN 100.9-FM on Sept. 17 and will call his first game for the station the ensuing Friday night on The Deuce during Week 5 of the high school football season. He will be the lead broadcaster for high school basketball and join Tunney in the booth during all Loons home games next season.
ESPN 100.9-FM (WLUN) is an award-winning 24-hour sports station owned by Michigan Baseball Foundation Enterprises. It is the flagship station of Great Lakes Loons baseball and carries a weekday lineup of Golic & Wingo, The Dan LeBatard Show, Shep, Shower 'N' Shave and The Huge Show. ESPN 100.9-FM also carries Saginaw Valley League football and basketball, Michigan State football and basketball, Central Michigan football, Northwood men's and women's basketball, along with the MLB, NBA and NFL.