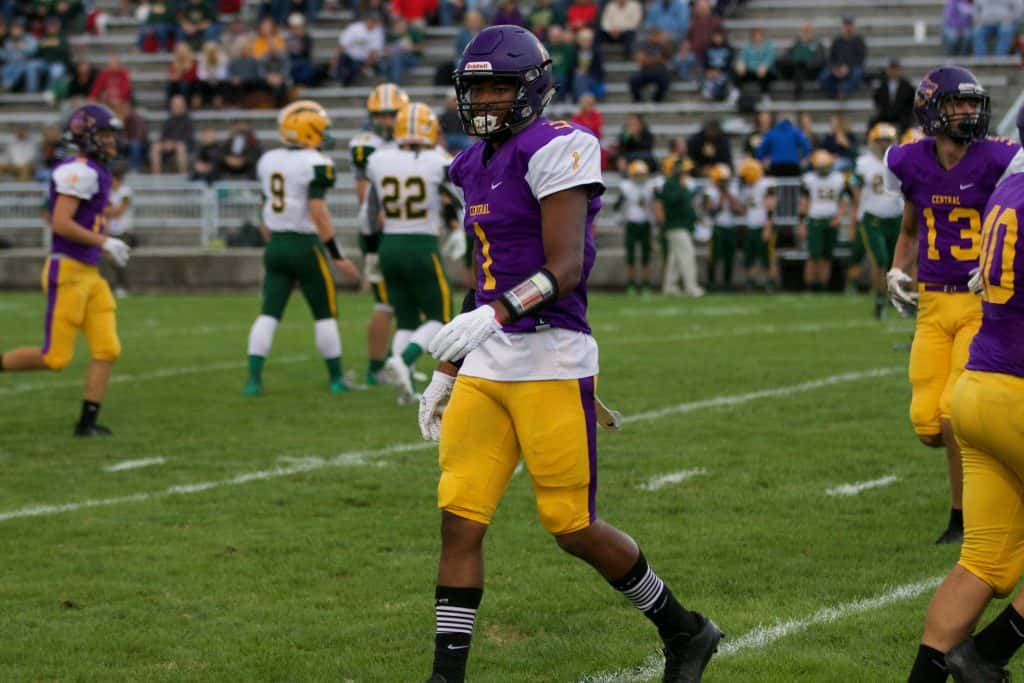 Devell Washington grew up an angry child.
Nine years ago, in 2009, he moved to Bay City and enrolled in Handy Middle School. Upon head coach Tom Sullivan getting him to join the football team, the sport became his release.
"I couldn't hit someone without getting in trouble," Washington jokingly said of his feelings before football. "Deep down inside, football helps me figure it out. It changed my attitude."
Following a successful eighth-grade season, Washington attended Bay City Central High School and immediately joined the football program at the junior varsity level.
His mother, Maria Sian, watched him quickly excel in academics and sports in a new setting but Washington took it to the next level. His daily regimen usually consists of waking up at 5 a.m., running to the YMCA for an early morning workout, going to school and eventually traveling to work at JT's Pub. Even during the football season, he works about three days per week.
Washington, unlike most 17-year-old's, is structured and disciplined.
Along with balancing school, work, and football, the 6-foot-4, 200-pound wide receiver also has to stay on top of his college recruitment. Washington has offers to play for Michigan, Michigan State, Ohio State, Central Michigan, Eastern Michigan, Toledo and Western Michigan.
His first offer was extended on April 5, 2018, by John Bonamego, the head coach at Central Michigan. The opportunity was life changing but also brought a high-level of intensity.
"It threw me off guard because I got the CMU offer and it changed everything," Washington said. "I was tense and knew I had to work."
For his mother, it's overwhelming. Once he enrolls in college, Washington will be the first in his family to attend a Division I college on scholarship. Everyone in his direct family has attended a community college, if that.
Sian views her son's college prospect development as a blessing to her four other children – all boys. Washington is closest with his brother Dominique Washington, a freshman receiver for Bay City Central. However, he has already started his three-year-old brother on drills with cones and ladder steps.
"It's really busy," Sain said of Washington's recruitment. "He has people calling for interviews and talking to him over social media. Also, he travels a lot.
"At 17, he maintains all of that. It's impressive."
*****
Sian came home from work on April 15 to Washington pacing around the house. She said that's what he usually does when he has something exciting to share. When she walked through the door, her son explained his first ever scholarship offer from Central Michigan.
"We want to be your first offer," Bonamego told Washington, who almost fainted in the moment.
The mother and son jumped out of joy, not knowing that even more was on the way.
Washington's first recruitment experience quickly followed with a plethora of offers, including Michigan, Michigan State and Ohio State. Of the seven schools currently with an offer on the table, he is still considering the Wolverines, Spartans and Buckeyes.
"The Michigan offer, oh heaven's sake, he told me to throw a barbecue after that one," Sian added.
Being such a highly recruited prospect from a small town in Michigan, Washington said it can be stressful. As a matter of fact, he's been troubled about picking a program since the notable offers rolled through.
Washington officially realized things were changing in economics class a week ago. Michigan coach Jim Harbaugh was brought into a conversation with his teacher.
"Man, tell Coach Harbaugh I said what's up!" his teacher exclaimed.
Harbaugh promptly responded, "Tell your Econ teacher I said what's up right back."
For most kids, those type of conversations would never occur. For Washington, a top prospect in a rural area, that's the new normal. Despite having an offer from Michigan and holding constant conversation with Harbaugh, the wide receiver is not allowing himself to settle on the field.
"I can get better," Washington explained. "I'm not where I'm supposed to be. I need to be ready, enroll early and get in there."
Washington and Sain took a family trip to visit Ohio State on Sept. 1 and Michigan on Sept. 8 following Bay City Central's Friday night games. Both schools made the three-star a top priority while he was on-campus.
At times, Washington feels like Ohio State is his leader. Then, late night thoughts creep in.
"Do I really want to go that far?" Washington questions of heading to Columbus.
Charles Rogers is not related to Washington by blood, but he is like an uncle to him. Rogers played wide receiver for Michigan State from 2000 to 2002. He broke numerous receiving records and was picked No. 2 overall in the 2003 NFL Draft by the Detroit Lions. If Washington makes the move to East Lansing, Rogers said he would give his old No. 80 jersey to him.
While Rogers made a phenomenal impact at Michigan State, Washington might be set for a different legacy.
"Devell wants to build his own name," Sian said regarding Washington's option to follow in Rogers' footsteps. "He wants to develop himself and make his own brand."
Despite all the stress and frustration, Washington plans to take his time and make a college decision whenever it feels right.
*****
From Sian's perspective, her son's confidence has shot through the roof during the recruitment process. Instead of getting cocky through his successes, Washington remains humble with chores, school, work and, of course, football practice.
She only asks for Washington to get out of Bay City and chase his dreams.
"Don't tell him that he can't do something because he's going to prove you wrong.
"Times two."