Grand Blanc & Carman-Ainsworth take the field in arguably the best rivalry in Genesee County on Friday night. Listen LIVE on ESPN 100.9-FM beginning at 6:30pm.
Flint Carman-Ainsworth and Grand Blanc typically meet in Week 1. At least that's how it's been for the last eight seasons.
This time around, the Cavaliers (2-1) and Bobcats (3-0) face off in a Week 4 battle at 7 p.m. on Sept. 14 in Flint and each team features a plethora of star power.
Both groups are not unfamiliar with one another, as Grand Blanc and Carman-Ainsworth have played in 33 all-time meetings. The Bobcats lead the series, 17-16.
Grand Blanc head coach Clint Alexander made a quarterback change after Week 2, moving 5-foot-10, 221-pound Ryder Brotebeck to running back and replacing him with junior Tylor Leedom, who was a starter for part of the year at Goodrich High School last season.
"I think it pitches to our strength," Alexander told Brendan Savage of MLive. "Tylor is more of a traditional quarterback. He can run and he can throw. Ryder is kind of our T-bone quarterback. Just trying to make our team better. Having two guys and playing one is dumb."
In a 27-20 victory against Saginaw Heritage two weeks ago, Leedom had his offense running on all cylinders. He completed 10-of-14 passes for 167 yards, three touchdowns and one interception while splitting time under center with Brotebeck.
During Leedom's last time out, a 47-0 drubbing of Flint Southwestern, he overtook the starting spot. Of his eight attempts, he completed seven for 81 yards and a touchdown. The junior added 13 yards and a score on the ground before giving the reins to backup Easton Edwards.
Losing a starting spot, especially at quarterback, could cause a senior to become upset with his teammates and coaching staff. For Brotebeck, he's been playing running back all his life and is excited to do just one thing – hit people.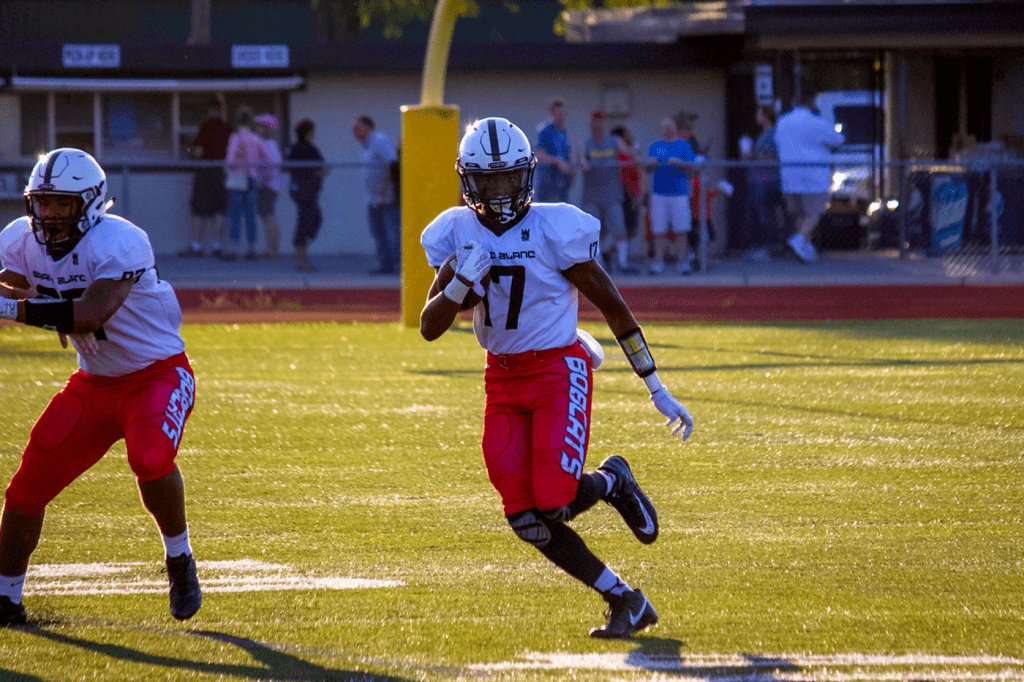 "It's his team," Brotebeck said of Leedom. "He's got control. I come in and help when I'm needed."
Grand Blanc comes into its Week 4 matchup ranked No. 9 in the Associated Press Division 1 poll. Meanwhile, Carman-Ainsworth is No. 9 in Division 2.
Carman-Ainsworth head coach Jerry Parker, unlike Alexander, hasn't had to think once about a quarterback switch. Junior dual-threat signal caller Dustin Fletcher is the guy for the Cavaliers, and he will be until graduation.
In the previous two weeks, Fletcher has accounted for 512 passing yards and five touchdowns, along with one score on 237 rushing yards. The 6-foot-3, 205 pounder has scholarship offers to Central Michigan, Eastern Michigan, Indiana, Kentucky, Northern Illinois, Seton Hill and Western Illinois.
A player that is sure to provide trouble for Leedom is senior defensive end Michael Fletcher, who has also flashed at tight end during the season. Michael, at 6-foot-5, 240 pounds, is a three-star prospect committed to Michigan State. He has dominated the entire Saginaw Valley League since he entered high school.
Following victories against Port Huron and Midland, the Cavaliers took a tough 36-29 blow at the hands of Davison in Week 3. The Cardinals remained undefeated in a wild final 2:58 of the game – featuring a blocked point-after-attempt, fumble recovery, touchdown and interception.
Davison junior Logan Pasco jumped on the ball after a muffed punt return by Carman-Ainsworth. Then, quarterback Cannon Hall scampered 13 yards to the end zone for a seven-point win.
Nonetheless, the Cavaliers have regrouped after a loss and are prepared to take on another tough opponent in Grand Blanc.
The Bobcats have won the last three meetings between the two programs, including a 51-46 nail-bitter in 2017. Grand Blanc owns the series as of late, but Carman-Ainsworth has home-field advantage and is hungry for a bounce-back performance.