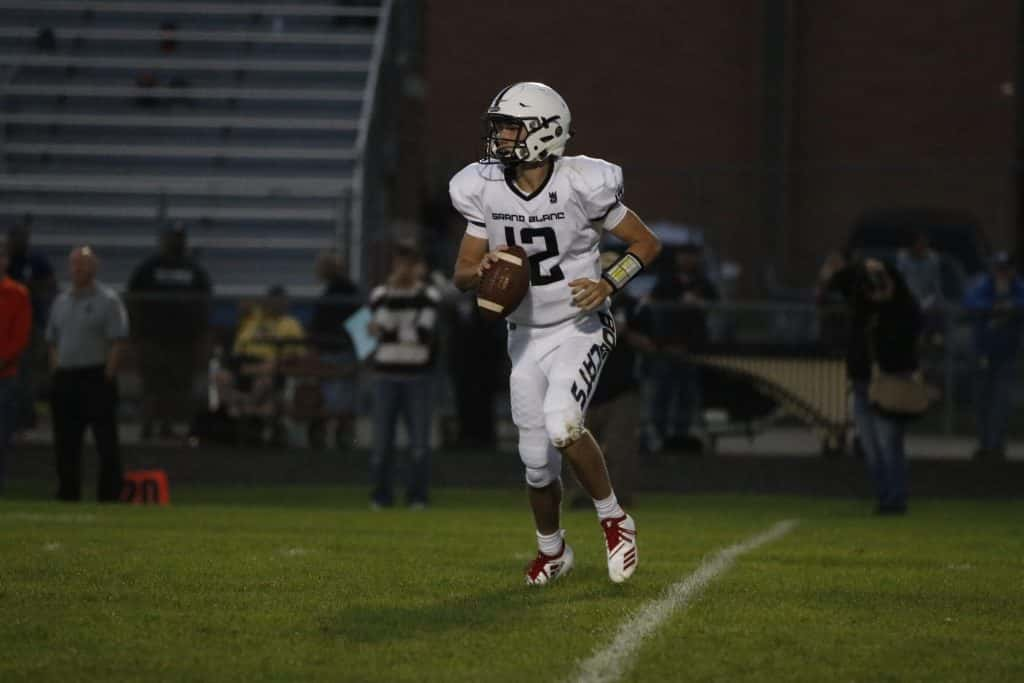 Less than five minutes into the game, the Grand Blanc Bobcats controlled a 21-0 lead.
It was only a matter of time before the floodgates opened even further, giving the Bobcats (4-0) a 42-14 victory against rival Flint Carman-Ainsworth Cavaliers (2-2) behind a five-touchdown night from junior quarterback Tylor Leedom.
Leedom commanded his offense thoroughly, completing 10-of-15 passes for 247 yards and four touchdowns without an interception. He also carried the ball for a rushing score.
"It was crazy," Leedom said. "We showed up and all the stands were full. We just played our game. My offensive line had great blocking up front. I couldn't have done it without them."
Grand Blanc started the game with perfect executions of an onside kick. Finding a flaw in Carman-Ainsworth's return set, the football was recovered by senior Austin McDermaid near the halfway marker. On the first play from scrimmage, Leedom connected with senior Nick Erlenbeck for a 49-yard touchdown – 12 seconds into the game.
Jumping to the defensive side of the ball, seniors Malik Bashar-Cager and Colton Alexander intercepted Carman-Ainsworth junior quarterback Dustin Fletcher on the Cavaliers' first and second drive of the game.
Two plays after the first interception and four plays after the second, Leedom found the end zone for Grand Blanc. On Carman-Ainsworth's third offensive possession, junior Myles McNeal added another pick.
"Great performance tonight," Erlenbeck said. "Defensive backs, our fronts got pressure on the quarterback. He's a great quarterback and we just got good pressure on him. Our DBs just made plays."
Fletcher eventually threw a touchdown to senior wide receiver Idris Bray in the second quarter, but he remained quiet throughout the contest. He finished with 10-of-26 completions for 164 yards, one touchdown and three interceptions. The junior three-star prospect carried the ball 17 times for 83 yards.
"We came out here and Carman talked a lot. To go up 21-0 in the first quarter was a big boost," said Grand Blanc cornerback Kortez Toles.
Sophomore running back Chris Coleman was the only other Cavs player to find the end zone – a five-yard carry for a touchdown.
It seemed as if Carman-Ainsworth would only trail 21-14 heading into halftime, but a late 44-yard strike from Leedom to Erlenbeck made it 28-14 advantage for Grand Blanc, ranked No. 9 in Division 2 by the Associated Press.
Erlenbeck caught five passes for 124 yards and two touchdowns in the win. The second half featured senior receiver Luke Bogan, who made an immediate impact with a 28-yard touchdown catch from Leedom just five minutes into the third quarter.
Already ahead 35-14, former senior starting quarterback Ryder Brotebeck, recently moved to running back, took a direct snap and blasted through the front line of Carman-Ainsworth for a 42-14 lead, which held firm until the final whistle.
Only starting for half of the 2017 season for Goodrich High School, Leedom is brand new to Grand Blanc and the Saginaw Valley League.
Next week, his team gets Davison, an undefeated team, at home.
"I haven't ever played teams as good as Davison or Lapeer, but I'm ready," Leedom said.