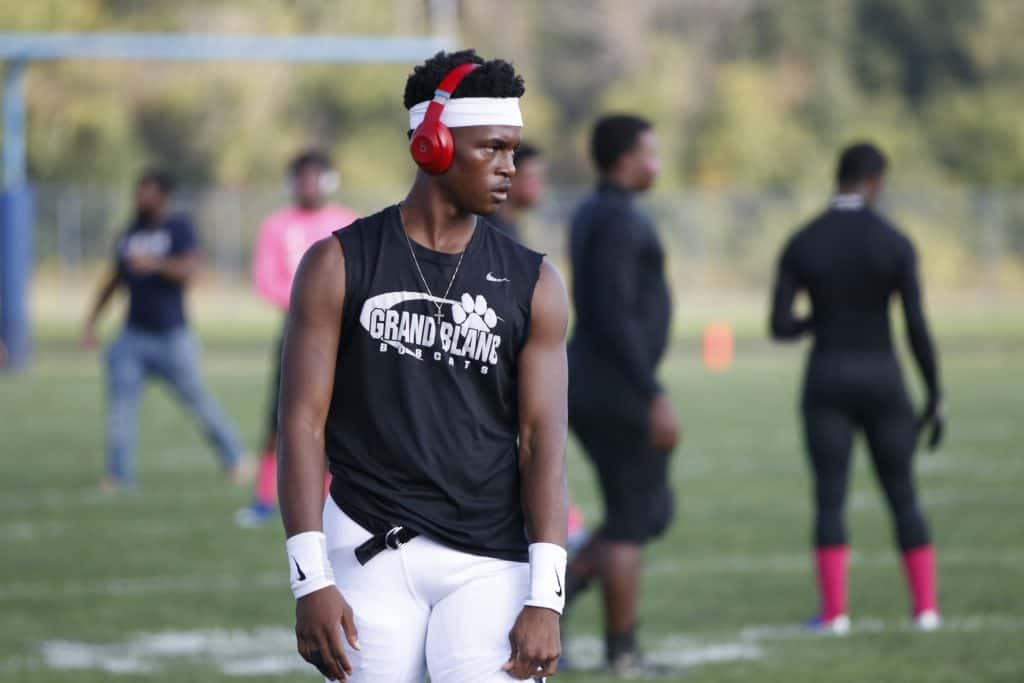 Kortez Toles, a solidified Division I recruit, quit the football team at Grand Blanc High School after his freshman season in 2015.
Playing varsity basketball as a first-year student, Toles made the decision to stick to basketball.
At least until new Grand Blanc head coach Clint Alexander came to town prior to the 2017 campaign.
"I've seen your film at cornerback," Alexander told Toles before his junior year. "You can get offers on the football field."
Alexander's coaching pedigree – sending a plethora of players to the NCAA and three to the NFL – and wise words towards Toles were enough to persuade him to join the football team as a junior.
His third game into the 2017 season, Toles picked up his first football scholarship offer from Central Michigan on Sept. 20, 2017. He now has offers to play for CMU, Pittsburgh, Toledo, Western Michigan, Bowling Green, Columbia, Cornell and Morgan State.
"The only offer I had in basketball was to Grand Valley State," Toles said. "Eventually that went away because I didn't go to any camps in the summer since I got back into football."
The now-senior cornerback's journey to becoming a future Division I football player did not start in high school. The path to success began as a young boy, learning from his father and older brother along the way.
*****
Toles' father, Thomas Toles Sr., played quarterback for Flint Northwestern High School back in the day. He had Kortez, his youngest son, in the backyard playing catch as early as five years old.
Kortez's would often challenge his brother, Thomas Toles Jr., once his father got home from work. The battle from a brother four years older helped mold the 6-foot-3, 180-pound athlete into the player he is today for the Bobcats.
"Dad, I need a quarterback," Kortez said as a child.
Kortez, 18, was bested by his brother – over and over. In the long run, it only helped him improve. The senior also said Thomas Jr., 22, forced him to play with his friends and often bullied him, all out of brotherly love.
"I saw the heart and determination in him," Thomas Sr. said. "He hates to lose at anything. I know the drive in him now is ten times more than when he was a kid."
For the longest time, Kortez was set on becoming a quarterback like his father. Developing as a short wide receiver and quarterback throughout middle school, he hit a growth spirt following his freshman year. The new-found height advantage brought upon a move to cornerback.
"He wanted to play offense, but there are so many kids and Coach Alexander doesn't play kids on offense and defense," Thomas Sr. said. "If they give him an opportunity to play wide receiver in college, he will do it."
*****
A way for Kortez, his brother and his father to relax and get away is through fishing. The trio, along with other family members, goes out at least seven times a year. It's become a way for Kortez to cope with the stress of football and recruiting.
Kortez compares being out on the boat to being on an island as a cornerback in the secondary.
"It's like when I'm on an island in the football field, I feel comfortable," he said. "It's the same with fishing, plus we talk about things other than football."
Without a timetable set to make a collegiate decision, Kortez said he's enjoying the experience and will be at Michigan on Sept. 22 for its game against Nebraska. He wants to revisit Central Michigan, as head coach John Bonamego was one of the first coaches to recruit him.
One of Kortez's recruiting devastations came after a camp at University of Pittsburgh. The coaching staff said they would be out to see him play but never showed up. Instead of getting down on himself, the cornerback pushed even harder.
"Usually when people get an offer, they slow down," Kortez explained. "For me, I wanted more. I worked harder and harder. It makes me want to be better."
Division I football player or not, Thomas Sr. is thankful his youngest son is on the right path as a man, and he has never missed a beat on Kortez's path to success on and off the field.
"He always tells me he loves and cares about me," Kortez said of his father. "He gets off work and comes straight to practice just to see me play as much as possible. He hasn't missed a day.
"Seeing how dedicated he is to me, it makes me want to play that much harder."