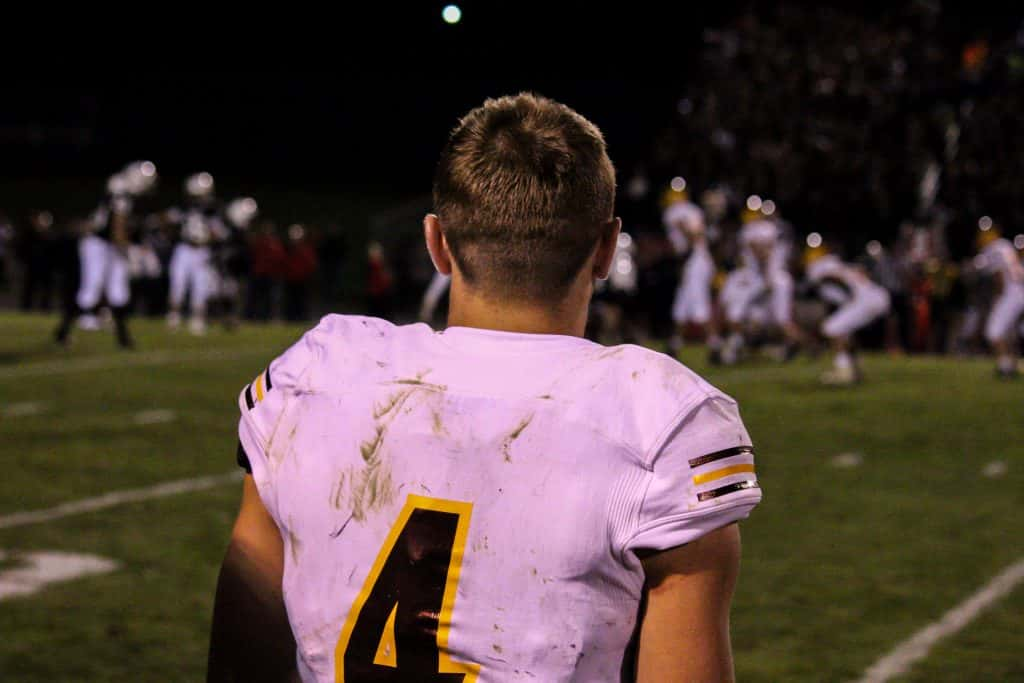 Cannon Hall carried a football in his arms from the time he was two years old, and he grew up just down the road from Davison High School.
As a child, Hall attended every Friday night football game at Davison with Roy Hall, his father and former Cardinals football captain.
"Why not me, dad?" Roy remembers Cannon asking. "Why can't I do that?"
Turns out, Cannon Hall did that.
Starting at quarterback for Davison as a senior, Hall has made a name for himself in the state of Michigan – completing 37-of-60 passes for 567 yards, nine scores and one interception. His best attribute is running the football, leading the Saginaw Valley League with 84 carries for 705 yards and 14 touchdowns through five weeks.
"I never thought it would be a reality where I'd be such a key part of the offense," Hall said. "It means the world to me. I love Davison and playing for the fans."
*****
Cannon, who turned 17 years old on Sept. 24, comes from a long line of athletic talent, stemming directly from his mother Jennifer Hall and father Roy.
Jennifer Langdon, later becoming a Hall, is considered one of the best athletes to ever come from Genesee County. She was All-State in softball, volleyball and tennis for four years at Clio High School. Then, Jennifer took her tennis talents to Michigan State University, a school her parents attended and held season tickets in basketball and football since 1967.
She was born to be a Spartan and eventually earned the captain role of the tennis team.
Roy was a captain linebacker and running back for Davison in the late 1980s, becoming an All-Big Nine Conference selection at both positions. He helped lead the Cardinals to their first playoff appearance in 1987, which was also the first season a team from the Big Nine beat both Lapeer and Grand Blanc in the same year.
The football star ended up at Michigan State as a member of the wrestling team.
Growing up, Cannon's world was huge. If two parents playing Division I athletics wasn't enough, he saw three of his mentors ¬– Brent Metcalf, Jon Reader and Paul Donahoe – win NCAA Division I championships in wrestling.
Metcalf was at Iowa, Reader took the crown at Iowa State, and Donahoe starred for Nebraska.
"He sees himself doing the same thing," Roy said. "It's not my job to tell him any different. He just wants to win."
Another person who influenced Cannon from an athletic standpoint was his sister, Haley Hall. Being two years older, she beat him in every sport until he was able to hold his own as a teenager.
"My sister kicked my butt all the time in anything we did," Cannon said of Haley with a laugh. "My parents never pushed sports on us, but football's always been my favorite."
*****
For the junior varsity football team as a sophomore in 2016, Cannon broke off for a 93-yard touchdown run. His father casually reminded him, it was only JV.
Roy owns the Davison High School record for longest rushing touchdown from scrimmage – 82 yards. At least he did until his son took a snap with 37 seconds left in the first quarter in Week 5 against Grand Blanc on Sept. 21.
Earlier in the week, Roy texted Cannon – "Dad never won at Grand Blanc, but I still got you on the longest touchdown run from scrimmage."
At the same moment, Roy was telling his old teammates of the text, Cannon found a hole provided by the offensive line and went 90 yards for a touchdown for a 21-7 edge as the first quarter ended.
"While I was running for the end zone, I was thinking about breaking my dad's record," Cannon explained. "I thought about the record mid-game."
The touchdown led to a 49-7 defeat on the road against Grand Blanc, something his father had never done.
Due to exceptional vision as a dual-threat quarterback, Cannon finished the game one-of-two through the air for 28 yards and one touchdown. He chipped in 13 carries for 187 yards and three touchdowns.
"He's way better than I ever was," Roy said with a smile. "I had six of my old teammates at the game who think I was pretty good, but he's amazing."
Roy noticed Cannon's vision at six years old during a wrestling game called seaweed. Roy said he couldn't tell Cannon's best sport between basketball, football, soccer, wrestling, track and baseball.
"It's a tag game, and you could see his vision," Roy detailed of seaweed. "He's not the fastest guy in the world, but it's his vision. It's amazing when he throws and runs the ball. He's a great all-around athlete."
*****
Cannon has emerged as not only a top player in the Saginaw Valley League but the entire state of Michigan.
The senior is not committed but has an offer to play quarterback in Northwood University's triple-option offense. He visited Wayne State on Sept. 23 and just wants to play at the next level.
Roy never coached youth football in order to push his son into the sport, so Cannon didn't get a chance to start playing quarterback until seventh grade. He was on JV as a freshman and knew he wanted to play in college.
"Northwood is a great fit," Roy said. "They've been on him, and he has a great relationship there. He loves the game, loves his teammates and has all the intangibles. He listens, and that's the biggest thing."
Cannon has one message for college football coaches – He just wants to play football and will do whatever it takes to win, regardless of the position he plays.
Even though Cannon has been guided and influenced by many, he gives credit to Roy as his biggest fan since birth.
"I love my dad," Cannon said. "He knew what I could do when nobody else did."