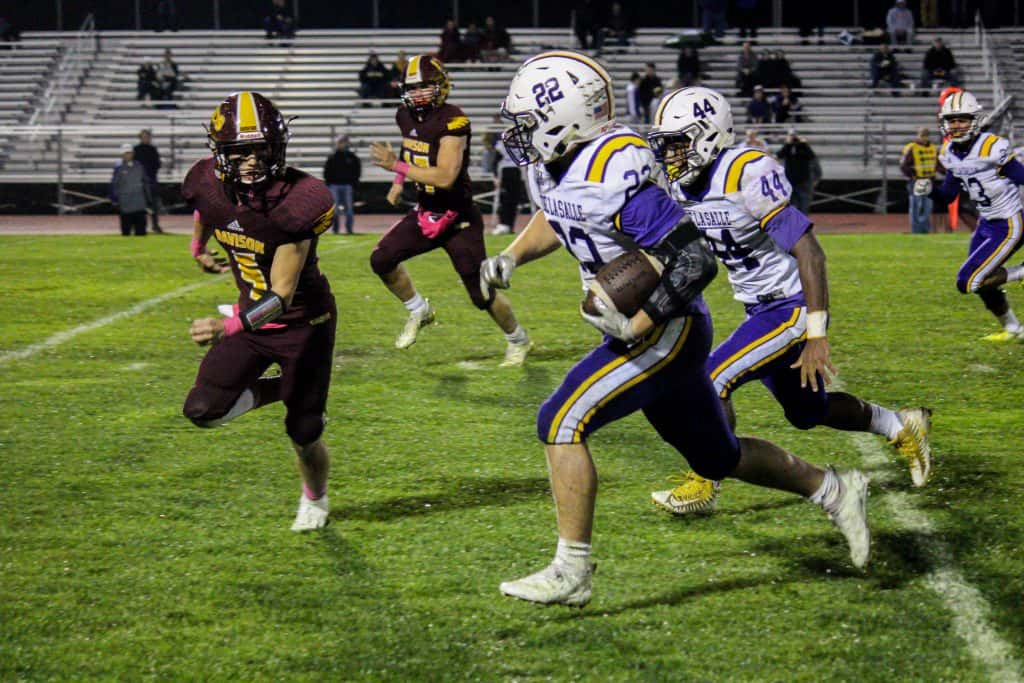 Warren De La Salle wide receiver Joshua DeBerry took the football on a jet sweep. While racing from right to left, he fumbled the football.
Davison senior cornerback Ray Cole II picked up the football and went 80 yards for a 7-0 lead just three minutes into the game on Oct. 5 at Davison High School.
From that point on, it was all Pilots (6-1) against the Cardinals (6-1) in a 35-7 victory. Coming into the game, Davison was ranked No. 7 in Division I and De La Salle was No. 4 in Division 2.
With 2:00 left in the first quarter, DeBerry made up for his mistake with an interception of Davison senior quarterback Cannon Hall, who had 27 touchdowns in six games entering the contest.
In the loss, Hall only was 8-of-17 for 88 yards. Running the football, he went for 33 yards on 18 carries. Senior Michael Jamerson, Davison's dynamic running back, was held to 27 rushing yards.
"They did what we expected them to do except for some minor things on the (defensive) line, but they're that good," Hall said. "They're big, they're fast. We knew they would be. We don't have any excuses for it. We had to go toe-to-toe with them and we couldn't."
Despite DeBerry's play, Davison junior Caleb Smith responded with an interception of his own to end the first quarter as a seven-point leader.
Less than three minutes into the second quarter, De La Salle managed to get the football back. Facing third-and-inches, 5-foot-9 senior quarterback Nolan Schultz jumped over a pile of Cardinals and into the end zone.
The next offensive drive for the Pilots featured a 10-yard touchdown connection between Schultz and DeBerry for a 14-7 edge. De La Salle poured it on with another score on the next drive – a 12-yard run from Schultz for a 14-point margin with 1:05 left until halftime.
Schultz finished the game 10-of-16 through the air for 193 yards, one touchdown and one interception. He added 11 carries for 54 yards and three scores on the ground.
"This is his third game that he's played," said DLS coach Mike Giannone. "He's a pretty savvy kid. He's got 'It' like they say. He can move. He can do a lot of things. He throws the ball pretty well. Little short (in stature) but that's about it."
His offensive line created a gap, and Schultz broke loose. He trekked 20 yards to the end zone for a 28-7 lead with 9:18 to go in the third quarter. Running back Evan Vaillancourt made it 35-7 to start the fourth.
Vaillancourt, despite scoring just one touchdown, registered 121 yards from scrimmage. However, DeBerry was the star of the game. He caught six passes for 123 yards and a touchdown but also made his presence felt as a cornerback.
"He came out strong," DeBerry said of his quarterback Schultz. "He's a big threat. He can throw, he can run, he can do it all."
On Davison's final drive of the game, Schultz stepped up on the defensive side of the ball. He intercepted Hall to allow the Pilots to run out the clock on offense and secure a 35-7 victory.