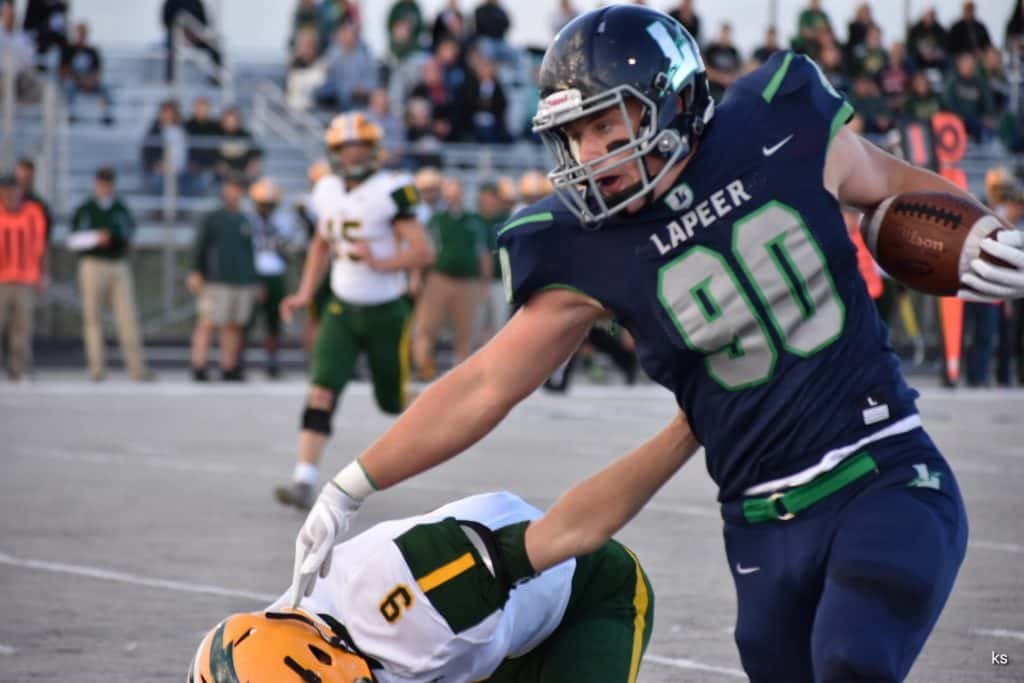 Carson Currie remembers walking the field at Lapeer High School as a young boy, intently watching each play. He dreamed of the big stage.
His brother, Jonathan Currie, was a two-year varsity player and 2015 graduate. He made the move to Wayne State University as a defensive end.
All while dominating for coach Mike Smith and the Lightning, Jonathan, 21, excelled in the classroom. Upon arriving at Wayne State, he was the 2016-17 recipient of the DII ADA Academic Achievement Award.
Since Jonathan was in high school, Carson took notes.
Now, the younger Currie is ranked No. 1 of 398 students in the 2019 class at Lapeer High School with a 4.425 grade-point average. Carson, 17, is also the starting tight end on the gridiron.
Before Carson got past middle school, he was concerned that he'd never be able to excel in the classroom and on the field. With the help of Jonathan's encouragement, the strenuous schedule turned out to be a possibility.
Jonathan's influence on Carson goes beyond being a role model for school and football -– it's as a brother and best friend.
"Yeah, we had some fights and scuffles, but we were really tight-knit and close," Carson said of growing up with Jonathan. "That's really carried on. It's tough with him being away. He comes back about every weekend, just so we can see each other."
Sooner than later, Carson found himself with a shot to play football in college, while getting the highest education possible. He has received interest from Columbia, Cornell and Yale. Despite the interest, the tight end does not have an offer.
If Carson had to pick between the two, he said academics would be the choice.
"I'm trying to cherish academics over athletics because those have helped me my whole life," Carson added. "I'm focusing on academics, but I hope I can do both."
Carson took five AP classes in the 2017-18 school year as a junior. He finished with all A's. He's aiming to do the same this time around, taking five more AP courses in order to help rack up college credit.
"Right now, I'm duel enrolled in multivariable calculus through Mott Community College," Carson said. "A high-tier college requires a '5' on the AP test, so those would count as credits."
If excelling in the classroom and on the field is not enough, Carson started a small e-commerce business with his teammate, senior safety Alex Huestis. The business is called "Tropical Suits," a website to purchase swimsuits for men and women.
"It's been pretty profitable so far," Carson said. "We are just trying to push it. Right now, if you just pay shipping and handling you can get a bikini for free. We run it, so we can do whatever we want."
Carson was told about e-commerce from a close friend. He attempted to start a business for selling cleaning products, but it fell through. Then he found Huestis, and the boys began collaborating and developing the website.
Lapeer, led by the tight end, is 7-0 to start the season. His starting quarterback, senior Brady Apple, credits the success of the team to Carson's brain.
"It's just like he's on another level," Apple said. "He has such a big bank of words that just leave people speechless and confused. What sets him apart though is he's got a contagious work ethic. If he got an A- on something he's the first one in the door talking to the teacher about what he did wrong."
Going forward in life, Carson said he is unsure of what he wants to do for a career. He enjoys math, so engineering and economics are currently near the top of his list.
"I don't think I'd be where I'm athletically or academically without the other. They feed off each other. I do well in the classroom and can take that on the field."