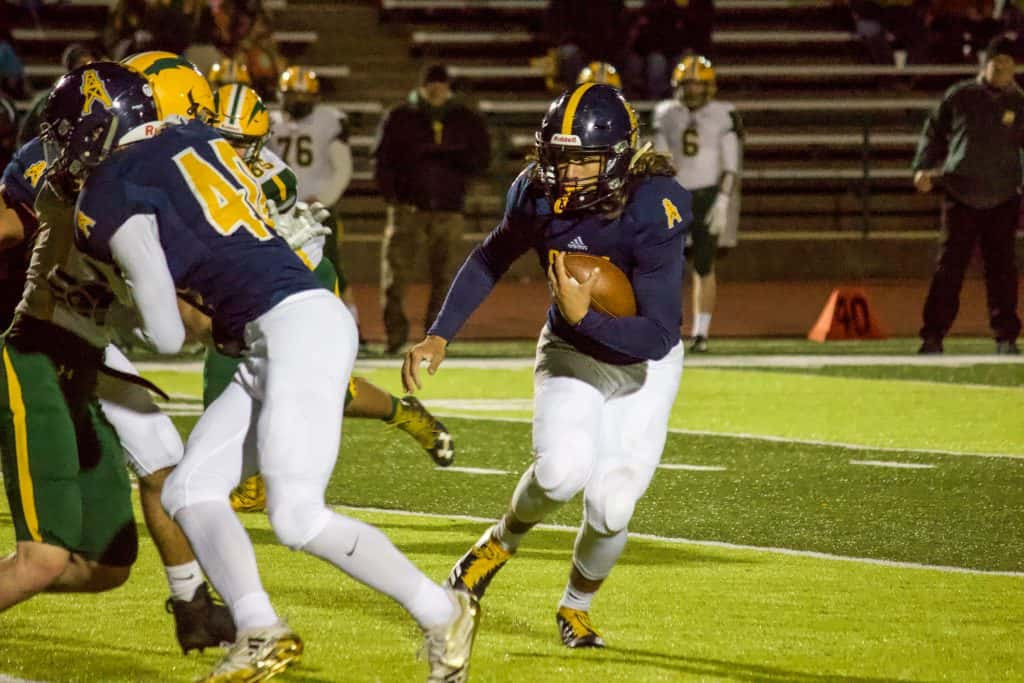 Shane Astrike dropped back in the pocket and released the football.
It was tipped and intercepted by Mount Pleasant defensive lineman Josh Schell to give the ball back to the Oilers with four minutes remaining and a four-point lead over Midland Dow.
From there, quarterback Jackson Ostrowsky ran out the clock to push Mount Pleasant to 8-0 on the season and earn the team at least a share of the Saginaw Valley League North Division championship.
"Definitely the best play I've made this year," Schell said. "I watched (Astrike) throw, jumped up and came down with it."
The journey to victory was not an easy one for the Oilers, as head coach Jason McIntyre's group went down 10-0 to start the game.
Dow kicker Zack Coon opened the contest with a 35-yard field goal to take a 3-0 lead with 4:33 left in the first quarter. Brennan Doyle made it 10-0 on a 32-yard touchdown reception from Astrike just over two minutes into the second quarter.
From then, it was all Oilers.
Charging down the field as time was set to expire in the first half, Ostrowsky tossed a 10-yard pass to Carter Nostrant in the back of the end zone. Nostrant hauled in the pass to cut his team's deficit to three points with 22.8 seconds until halftime.
"For us to be down by just three at the half was huge," McIntyre said. "We knew we had a shot to win."
The final score of the game was a five-yard rushing touchdown from Ostrowsky with 8:02 remaining in the third quarter.
Ostrowsky, in his second-to-last high school regular season game, finished 4-of-18 for 100 yards and one touchdown. He also threw an interception, but he made up for it with his legs – 18 carries for 60 yards and one score.
Giving Mount Pleasant a 14-10 edge into the fourth quarter, Ostrowsky relied on the Oilers' defense to outduel Astrike and senior receiver Nick Sierocki.
Led by Schell and junior Tyler Huenneman, Mount Pleasant stood tall in the final quarter of play.
Astrike was 10-of-20 for 97 yards, one touchdown and two interceptions. He had 13 carries for 126 yards. Sierocki, who has 22 touchdowns on the season, was held scoreless in the loss. He registered eight receptions for 46 yards and 13 carries for 108 yards.
Dow head coach Jason Watkins blamed self-inflicted wounds were the reason for losing to Mount Pleasant on Oct. 12 at Community Memorial Stadium.
"It's really disappointing," Watkins said of the loss. "No disrespect to Mount Pleasant, but we gave too many opportunities away."