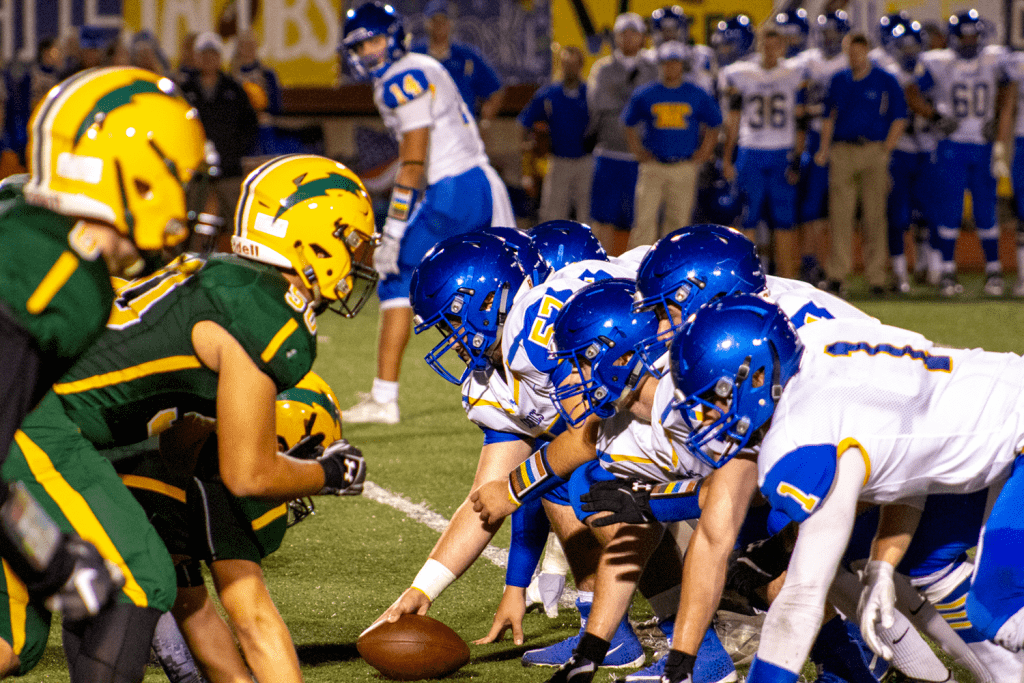 It's the 49th City Championship between the Dow Chargers and the Midland Chemics. Winner qualifies for the 2018 MHSAA Football Playoffs. Listen to the game LIVE on ESPN 100.9-FM beginning at 6:30pm. Brad Tunney & Matt DeVries will be on the call.
Just four miles separate Midland High School and H.H. Dow High School. Of the 51 games played between the two schools, Midland has come out on top in 37 of them.
When push comes to shove, it's a historic rivalry in the Saginaw Valley League on the final week of the regular season. However, the stakes this year are higher than ever.
The Chemics (5-3, 5-1 SVL Blue) and Chargers (5-3, 5-1 SVL Blue) both need a victory to advance to the MHSAA Playoffs. The problem – only one team will do so at 7 p.m. on Friday at Midland Community Stadium.
"This is like a playoff game. You either win or your season's over," said Midland coach Eric Methner to the Midland Daily News. "This game always has a lot of magnitude. (This year), both teams will be fighting tooth and nail to try to extend their seasons."
Dow coach Jason Watkins agreed. He is fully aware the game encompasses the city championship and an opportunity to advance past the regular season.
"If you want to go into the weekend knowing you're in (the playoffs), you've got to win this one on Friday night," Watkins said. "If you want to punch your own ticket, here it is."
Dow senior quarterback Shane Astrike leads the SVL Blue in passing ­– 105-of-173 for 1,810 yards, 18 touchdowns and nine interceptions. He's added 296 yards and four scores to his resume, as well.
Opposing Astrike is Midland sophomore Al Money. He's completed 67.9 percent of his passes, an SVL Blue high, for five touchdowns. On the ground, he has four scores. The sophomore signal-caller was not brought up to the varsity roster until Week 3, but he has been the starter for Methner ever since.
After some growing pains, Money took off in leading the offense alongside senior running back Christian Gordon, who has 122 carries for 848 yards and 10 touchdowns.
Since the conclusion of Week 2, the Chemics own a 5-1 record – as do the Chargers.
???? It doesn't get any better than playing in a city rivalry game, just ask @Dowathletics RB @nicksierocki. ???? #LocalSportsLeader pic.twitter.com/0BNmo237oe

— ESPN 100.9-FM (@ESPN1009) October 16, 2018
Working side-by-side with Astrike is senior Swiss Army knife Nick Sierocki, playing both running back and wide receiver for Dow. His numbers are off the charts – 1,458 yards from scrimmage and 22 touchdowns.
Senior Chase Perry has five touchdowns on 350 receiving yards, and senior Brennan Doyle's stat line includes two scores with 245 receiving yards.
"Obviously, Sierocki is an exceptional player, and (Brennan) Doyle's also caught some big passes for them," Methner said. "(Chase) Perry is extremely fast and has the potential to score on any given play.
Fans are encouraged to buy tickets before Friday. They are available online here. Pre-purchased tickets, online tickets, and pass holders are encouraged to enter the stadium through the line at each gate marked "Passes & Online Tickets." There is no need to wait in line for the window. The top 4 rows of the South side of the stadium immediately in front of the press tent will also be closed to spectators. Gates open at 6:00.
Midland Daily News: Midland press box could cost $600,000 to rebuild
In 12 games between Watkins and Methner, the Midland coach leads the series with six wins compared to Watkins' five.
"Eric is a class act, he expects a lot out of his kids and he does it the right way," Watkins said. "He faces a lot of the same challenges I face as a coach. He's rock-solid."
The Watkins and Methner battle, along with the Dow-Midland rivalry, continues for the 13th time on Friday at Midland Community Stadium.
But only one will come out on top, sending their team to the playoffs.