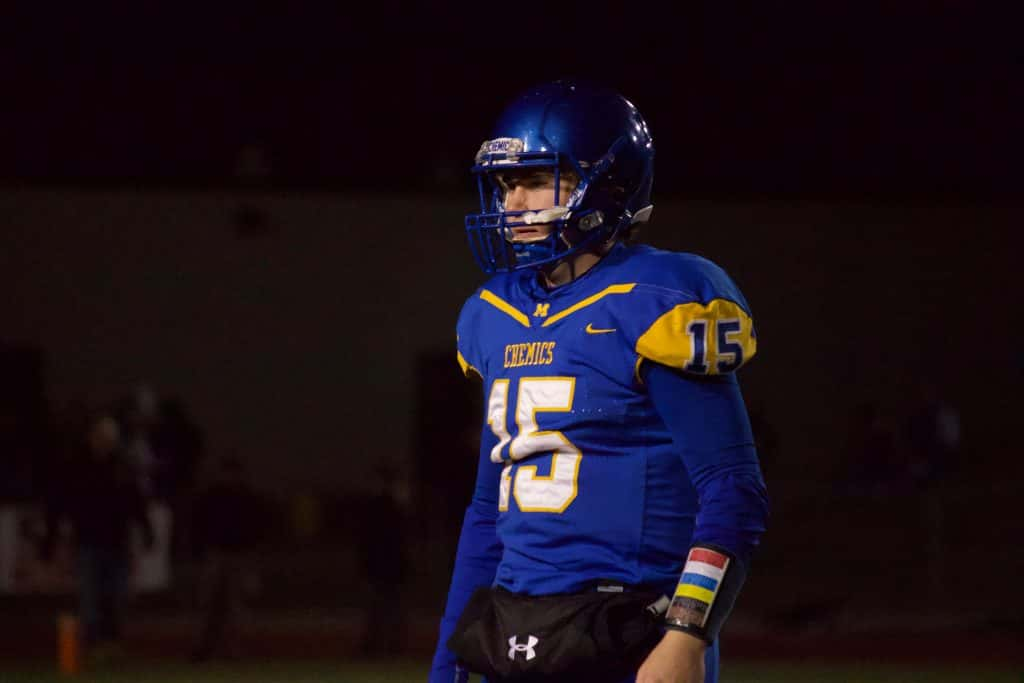 Midland has 42 players on its roster – 20 seniors, 19 juniors and three sophomores. No stars and no Division I offers, but a whole lot of heart.
Walled Lake Western's lineup, on the other hand, is filled with a plethora of top college prospects.
The two teams face off in the MHSAA Division 2 state quarterfinals at 7 p.m. on Friday, putting the winner one win away from a berth in the state title game at Ford Field on Thanksgiving weekend. Midland coach Eric Methner said his team is fired up to travel to Walled Lake Western High School for the contest.
"We'll have our hands full, but you expect a tough opponent when you get to the quarterfinals," Methner told the Midland Daily News. "But I like how our team's playing. We're playing with a lot of confidence and we're looking forward to Friday night."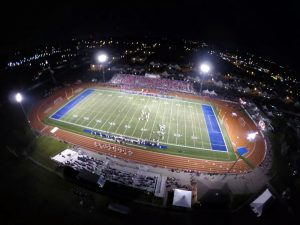 Walled Lake Western's quarterback, senior Sam Johnson III, is a three-star prospect committed to play at Boston College. He picked the Eagles over Missouri, Michigan, Syracuse, Iowa and others.
"We've got to find a way to get some pressure on (Johnson)," Methner said. "We have to get him off his spot and get him moving around a little bit."
His main wide receiver, junior Abdur-Rahmaan Yaseen, is a three-star prospect with offers from 19 schools, including Boston College, Iowa, Northwestern, Purdue, Kentucky, Maryland and Minnesota. Walled Lake Western coach Alex Grignon believes Yaseen is one of the best receivers in the state.
Yaseen is ranked No. 451 in the 2020 class. In 2019, Johnson is ranked No. 576 and Michigan State offensive tackle commit Spencer Brown is No. 509.
Brown, at 6-foot-6, 295 pounds, also anchors the defensive line. Lining up with him is 6-foot-2, 305-pound defensive tackle Justin Collier. Brown controlled offers from LSU, Florida, Miami (Fla.), Michigan and other top programs before picking the Spartans on July 31, 2017.
"Their defensive line gets a pretty good push up front in some of the games I've seen on film," Methner said. "So, our offensive line will have to work extremely hard at getting off the ball and sustaining their blocks."
Despite star power, the Warriors are not looking past the Chemics, who have won eight of their last nine games, including defeats of Swartz Creek and Midland Dow in the playoffs.
"We've got our work cut out for us," Grignon said. "This should be a good, old-fashioned football game. It's high school football and anything can happen."
One unforeseen element that has emerged is the snowfall that has landed on the Lower Peninsula. The temperature at kickoff is forecasted at 33 degrees with a westerly wind at 16 mph, causing it to feel like 22 degrees. The snowfall is expected to be over by game time, cold temperatures might cause sitting snow on the field throughout the night. By 10 p.m., the "feels like" temperature will be as low as 15 degrees.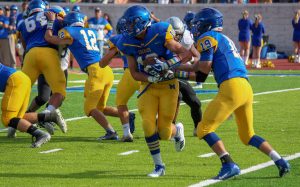 Midland has put together a stretch of victories on the back of sophomore quarterback Al Money and senior running back Christian Gordon.
Money has thrown for 849 yards, seven touchdowns and three interceptions since being called up from JV and taking over after the second game of the season. Gordon has 1,206 yards and 18 touchdowns on the ground.
Opposing Gordon in the run game will be senior Kevin Jackson, junior CJ Brown and senior Dawson Cofield for Walled Lake Western.
"We have a handful of guys that can carry the ball," Grignon said.
If adversity hits on Friday night against a tough Walled Lake Western team, Methner said his team will continue to battle – just as they have all season.
"Our guys have continued to work hard," Methner said. "We're playing some great football in all three phases. I'm just proud of their work ethic and dedication."
The winner between Midland and Walled Lake Western will face Portage Northern or Muskegon Mona Shores in the state semifinals on Saturday, Nov. 17.