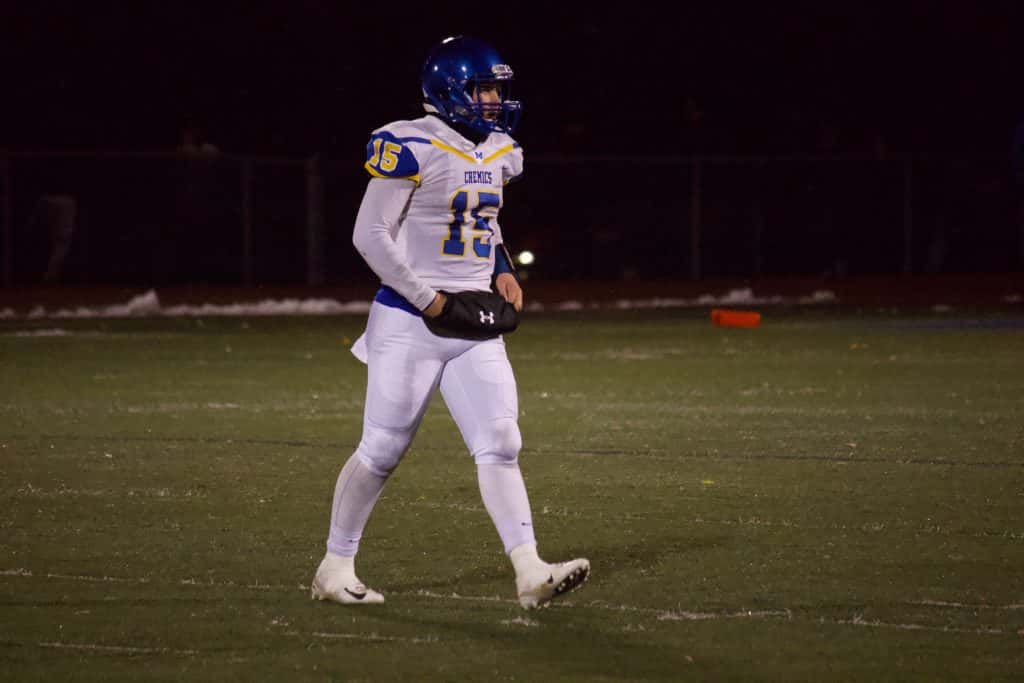 Slowed by a traffic jam on US-23, the Midland Chemics didn't arrive at Dick Watson Field until near 7 p.m., pushing the start time back 45 minutes.
Once the opening whistle sounded, it was all Chemics ¬in the three phases of football – offense, defense and special teams.
Midland coach Eric Methner hoisted the MHSAA Division 2 regional championship trophy following a 43-0 stomping of Walled Lake Western, a team filled with top-notch college prospects, on Nov. 9.
"Let's just count our blessings," Methner told him team after finally arriving on the field.
Under pressure all night, Walled Lake Western quarterback Sam Johnson III, a Boston College commit, was inefficient. He finished 6-of-20 for 69 yards along with five carries for minus-21 yards and a fumble.
The Midland student section let Johnson know, chanting "Boston College" every time he made a mistake. Following the game, Methner gave a shout-out to the fans that made the nearly two-hour drive.
"We knew we had to put pressure on him, and our guys did," Methner said of Johnson.
Al Money, just a sophomore at quarterback for the Chemics, does not have any stars or college offers. However, he outplayed Johnson all night long. Money anchored Midland with 141 all-purpose yards and two touchdowns.
Methner said Money played a "perfect" game in the state semifinal matchup. If it wasn't Money working his magic, it was senior running back Christian Gordon.
Gordon, after a Midland safety, scored the first touchdown on a 17-yard rushing score. On the next possession, his 45-yard carry set-up a 2-yard carry into the end zone from Carter Grove.
Money threw his first touchdown of the game, a 38-yard pass to Tim Hackbarth, for a 23-0 edge with 57 seconds left in the first half.
The Chemics opened the second half with a 63-yard touchdown from Gordon, and then Money tossed a 24-yard strike on the first play of the fourth quarter to Grove for a 36-0 edge.
Gordon finished the game with 18 carries for 193 yards and two touchdowns.
Walled Lake Western junior receiver Abdur-Rahmaan Yaseen is a three-star prospect with 19 Division I offers. Sophomore cornerback Eli Gordon, younger brother of Christian, was tasked with covering one of the state's best wide receivers.
Gordon locked him down – all game long. Yaseen, a constant end zone threat, had just four receptions for 50 yards.
Jordan Hicks added to the margin with a 5-yard rushing touchdown. At that point, just 7:45 remained in the contest.
The temperature on Friday night was near freezing, and the wind chill added to the harsh conditions. Methner felt his team was playing at Lambeau Field, home of the Green Bay Packers.
"Our players practiced in these conditions all week," he said. "Our kids said, 'Bring it on.' They embraced (the cold conditions)."
Up next for the Chemics (9-3) is Muskegon Mona Shores (11-1) in the state semifinals on Saturday, Nov. 17. The winner will advance to the MHSAA Division 2 state finals at Ford Field over Thanksgiving weekend.