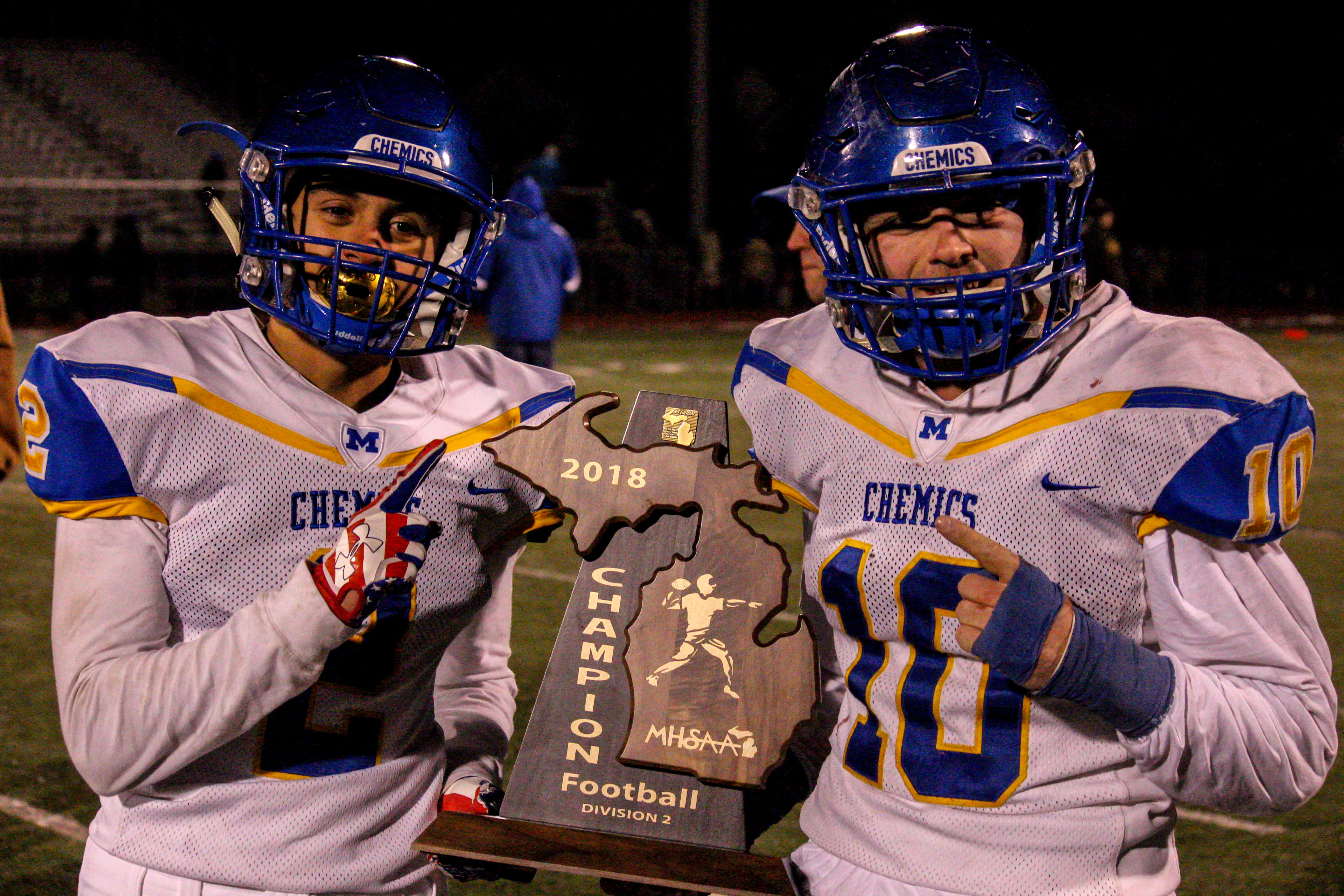 In the summer of 2017, a turf field priced at over $500,000 was installed at Grand Ledge High School. At 1 p.m. on Saturday, Nov. 16, the field just off M-43 west of Lansing will be home to the MHSAA Division 2 state semifinal matchup between Midland High and Muskegon Mona Shores.
Earning an upset victory over Walled Lake Western a week ago, Midland coach Eric Methner is looking for a repeat to advance to the state title game at Ford Field on Friday, Nov. 23. The winner between Midland and Mona Shores will play either Warren De La Salle or Birmingham Groves for the championship.
Led by sophomore quarterback Al Money, the Chemics (9-3) have put together an unbelievable run after starting 0-2 on the season. Money replaced senior Kadin Jacobs and delivered nine wins in the last 10 games.
"The moment isn't too much for Al," Methner said. "He's got a great head on his shoulders. I'm really proud of him. Al knows he's not where he wants to be yet as far as a finished product."
Money has thrown for 916 yards, eight touchdowns and three interceptions since being called up from JV and taking over after the second game of the season.
"The season has been perfect," Money said. "My teammates have embraced me and have helped me fit in with the team."
When Money is not slinging passes with his elusive arm or using his legs and stocky build to pick up a few yards on the ground, he's handing the ball off to senior running back Christian Gordon.
Gordon has logged 1,408 yards and 20 touchdowns. Other offensive weapons include Jacobs, Carter Grove and Tommy Johnstone.
Touchdown, Midland.

Senior RB Christian Gordon goes 63 yards to the end zone with 3:42 left in the third quarter. @midlandchemics lead Walled Lake Western, 30-0. pic.twitter.com/1gi694kTn9

— ESPN 100.9-FM (@ESPN1009) November 10, 2018
Gordon's brother, sophomore cornerback Eli Gordon, leads the secondary. A week ago, he locked down Division I prospect Abdur-Rahmaan Yaseen, who has 19 college offers as a junior.
Midland's opponent, Mona Shores, has only lost to Muskegon during the 2018 season. The Sailors are currently 11-1 and averaging 45.3 points per game. The Chemics defense, however, is allowing just 16.4 points per contest.
Mona Shores' offense is paced by junior quarterback Caden Broersma at 6-foot-3, 210 pounds. Broersma is a dual-threat option, passing for 1,726 yards and 16 touchdowns and rushing for 985 yards and 16 scores.
"Their quarterback is a fantastic runner," Methner said. "He's very good at running the option."
Running back Sinceré Dent, a Ferris State commit, has 24 rushing scores on 1,228 yards, while receiver James Gilbert is Broersma's top target with 1,307 yards and 12 touchdowns.
"He's a big, strong kid and he runs with a lot of authority. He's a punishing back," Methner said of Dent. "We're going to have to get a lot of hats to him."
Since the Midland Chemics started the season 0-2:

– 9 wins in last 10 games
– City champs
– District champs
– Regional champs pic.twitter.com/rSin6RhRxC

— ESPN 100.9-FM (@ESPN1009) November 10, 2018
Mona Shores coach Matt Koziak said he respects Midland's tenacious defense and multi-purpose offense.
"They're tough kids and they play hard. They have an attacking defense," Koziak said. "It's almost like they're in a different spot every time they line up. They're a man-to-man team. They believe in bringing pressure and keeping stuff underneath them."