100.9-FM to air 16 games in first month of the season
After a successful football season at ESPN 100.9-FM during which 20 games in the Saginaw Valley League were featured across multiple radio and digital platforms, the focus after the Thanksgiving holiday will turn to the hardwood!
Along with every Michigan State Basketball game and a national schedule of NBA matchups with ESPN Radio, both the SVL and Northwood will take center stage for four months throughout the winter.
Returning for a second season on the mic is Blake Froling (pictured on left), who will be the lead voice for high school basketball. In his first season with the station, Froling covered 47 games in total, including 17 in the MHSAA State Basketball Tournament. The biggest highlight out of the SVL in 2018-19 was the Heritage Hawks girls' team (pictured below) capturing a state championship, their second consecutive title under head coach Vonnie DeLong. Providing color commentary this season will be longtime SVL administrator/coach Dan Szatkowski and local broadcaster Eric Vandefifer.
Brad Tunney (pictured on right), who's name and voice has become synonymous with sports here in the Great Lakes Bay Region over the last five years, enters his second full season as the lead broadcaster of Division II Northwood Men's & Women's Basketball and sixth calling hoops on the local sports leader. Tunney will once again be joined courtside by Travis McCurdy throughout the season. Now in his 17th year with the athletic department, "T-Mac" serves as the Sports Information Director and Assistant Athletic Director – Communications for Northwood.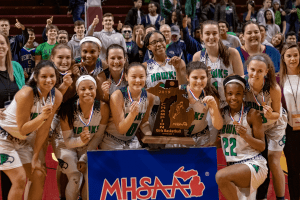 This season's Timberwolves tout a number of local standouts on both the men's and women's rosters: Ja'Kavien Lewis (So., Carman-Ainsworth), Trevor Davis (So., Dow), Elias Ramirez (Fr., Bay City Central), Ellie Taylor (Jr., Dow), McKenna Walker, (So., Bay City Western), Maizie Taylor (Fr., Dow).
All games are to be broadcast on ESPN 100.9-FM and the primary online stream unless otherwise noted.
Saginaw Valley League
Tues. Dec. 3 – Dow @ Freeland (Girls) – 6:45 p.m.
Fri. Dec. 6 – John Glenn @ Garber (Girls) – 6:45 p.m.
Tues. Dec. 10 – Heritage @ Dow (Boys) – 6:45 p.m.
Fri. Dec. 13 – Grand Blanc @ Carman-Ainsworth (Boys) – 6:45 p.m.
Sat. Dec. 14 – Arthur Hill @ Saginaw (Boys) – 12:45 p.m. on The Deuce
Tues. Dec. 17 – John Glenn @ Freeland (Girls) – 6:45 p.m.
Thurs. Dec. 19 – Midland @ Dow (Girls/Boys) – 6 p.m.
Fri. Dec. 20 – Carman-Ainsworth @ Saginaw (Boys) – 6:45 p.m.
Northwood Basketball
Thurs. Dec. 5 – Northwood @ Northern Michigan (Men/Women) – 5:30 p.m.
Sat. Dec. 7 – Northwood @ Michigan Tech (Men/Women) – 12 p.m.
Sun. Dec. 15 – SVSU @ Northwood (Women/Men) – 4 p.m.
Sat. Dec. 21 – Lawrence Tech @ Northwood (Women) – 1 p.m.
Beginning December 2nd, our Northwood coaches show shifts to Mondays at 6 p.m. with Northwood Basketball Weekly. Hosted by Tunney and McCurdy, the weekly program dissects the previous week in Northwood hoops and looks ahead to the upcoming schedule with men's head coach Jeff Rekeweg and women's head coach Jeff Curtis. Throughout the season, the foursome will also be joined by assistant coaches and players.
In total, 10 different local high schools will be featured in the first month of the season with Dow, Freeland, John Glenn, Carman-Ainsworth and Saginaw all involved on multiple dates.
ESPN 100.9-FM (WLUN) is an award-winning 24-hour sports station owned by Michigan Baseball Foundation Enterprises. It is the flagship station of Great Lakes Loons baseball and carries a weekday lineup of Golic & Wingo, The Dan LeBatard Show, X's & Bro's and The Huge Show. ESPN 100.9-FM also carries Saginaw Valley League football and basketball, Michigan State football and basketball, Central Michigan football, Northwood men's and women's basketball, along with the MLB, NBA and NFL.