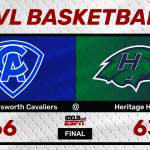 There is a reason why coaches emphasize free throws.
Jayden Nunn's clutch free throws in the final minutes of the game staved off a furious Heritage comeback on Tuesday night as Carman-Ainsworth survived 66-63 on the road.
Nunn took over in the fourth quarter, scoring nine of his team-high 20 points in the frame; Seven of those points came at the charity stripe.
The Cavs controlled the tempo of the game for the first three quarters and led 53-41 going into the fourth. The big three of Parker Day, Cade Beall, and Christian Dobis fueled a 16-5 run to open the fourth quarter and cut the lead to 58-57 with 2:37 remaining.
Heritage suffered a huge blow midway through the fourth when Day picked up his fifth foul on a controversial call. The Hawks played the remainder of the game with just one senior on the floor and nearly pulled off the upset. Day finished with 11 points, seven of which came in the first four minutes of the fourth quarter.
Nunn and Beall traded baskets to keep it a one-point game with just under a minute remaining, but it was Nunn's free throws in the final seconds that kept Heritage from taking the upset win.
.@nunn_jayden was Mr. Clutch for @C_AAthletics tonight. He scored 20 points and sunk several free throws late in the game to help seal the victory for the Cavs. pic.twitter.com/1Flmt9HZuV

— ESPN 100.9-FM (@ESPN1009) January 15, 2020
Carman-Ainsworth final stats
Jayden Nunn: 20 points
Mekhi Ellison: 12 points
Patrick Hollis: 12 points
Jason Green: 7 points
Darrell Scroggins: 6 points
Rasheed Brown: 3 points
Isaiah Jones: 2 points
Heritage final stats
Cade Beall: 20 points
Christian Dobis: 18 points
Parker Day: 11 points
Evan Booker: 6 points
Isreal Smith: 6 points
Chris Parker: 2 points