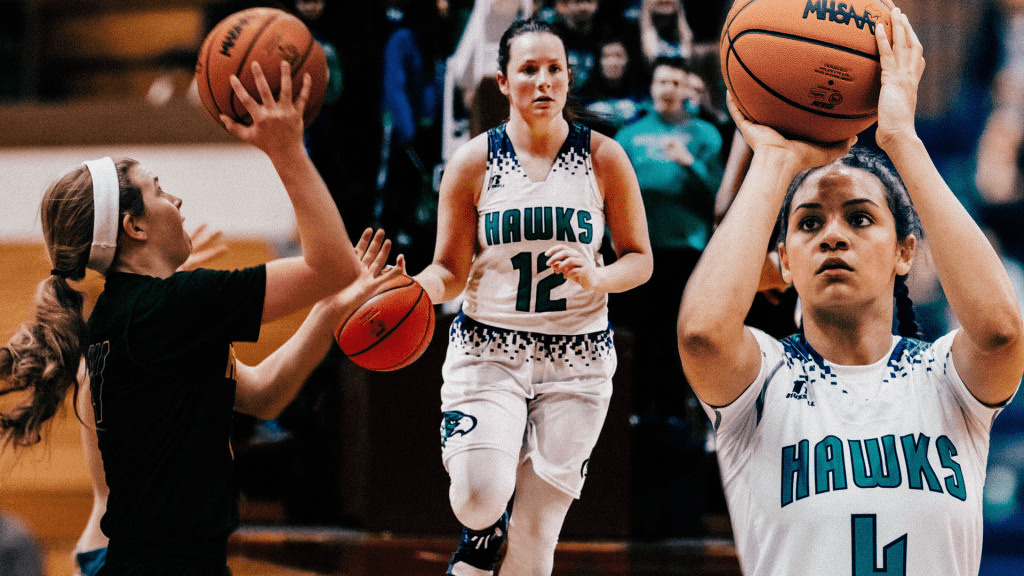 By Blake Froling
The Saginaw Valley League has been known to pump out elite basketball talent year in and year out. Three players who grabbed headlines last year have already made waves as freshmen in college. 
Molly Davis, Central Michigan University (Dow)
2019-20 stats: 24 games/24 starts, 14.5 PPG, 3.8 RPG, 4.4 APG, 52.5% FG, 41.4% 3PT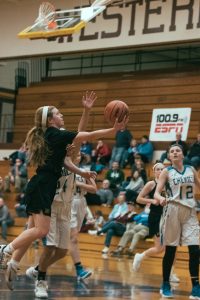 Molly was a scoring machine during her time at Dow and was known as maybe the best shooter in the Saginaw Valley League. That sweet stroke has translated almost seamlessly to the Mid-American Conference.
After starting 0-9 from three-point range, Davis has made at least one three-pointer in 20 of 22 games as a Chippewa, including eight games with at least three made from beyond the arc. 
Davis is second on the team in scoring, second in three-pointers made, second in assists, and second in minutes played, all behind junior standout Micaela Kelly. She's averaging 16.4 points per game in MAC play, which ranks ninth among all players and second among freshmen.
Best Game: Jan. 25 vs. Toledo
It's tough to pick a best game for Davis since she's had so many impressive performances. In a 73-66 win over Toledo, Davis scored a team-high 28 points and played all 40 minutes. She shot 10-18 from the field and 4-9 from three. Perhaps the most impressive stat is just one turnover in 40 minutes. 
Mallory McCartney, Ferris State University (Heritage)
2019-20 stats: 25 games/24 starts, 11.7 PPG, 5.3 RPG, 4.3 APG, 42.4% FG, 38.5% 3PT
McCartney was part of the talented "big three" at Heritage that won back-to-back state championships. She's continued that success at Ferris State so far.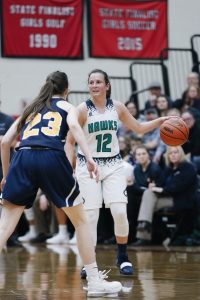 As a freshman, McCartney ranks third on the team in scoring, third in rebounding, and leads Ferris State in assists. She's also fourth in the GLIAC in assists per game while turning the ball over fewer times than the three players ahead of her. McCartney has scored 15 or more points in eight games and played 35 or more minutes in 10 games. She's doing all of this for a team that's first place in the North Division of the GLIAC. 
Best Game: Jan. 25 vs. Purdue Northwest
McCartney stuffed the stat sheet in Ferris State's 77-70 overtime win over Purdue Northwest. She tallied 22 points, 11 rebounds, three assists, and four steals while shooting 7-11 from the field and 5-7 from beyond the arc. She also played 41 of a possible 45 minutes.  
Moira Joiner, Michigan State University (Heritage)
2019-20 stats: 25 games/21 starts, 7 PPG, 3.4 RPG, 1.6 APG, 39.6% FG, 41% 3PT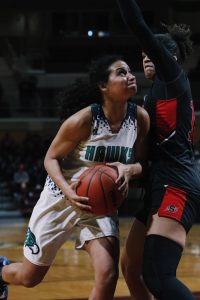 Joiner might be one of the most accomplished players in Saginaw Valley League history, winning two state championships during her time at Heritage as well as Player of the Year honors. She may not be the star in East Lansing, but her role continues to grow for the Spartans.
Since Dec. 28, she has started every game for Michigan State and played at least 29 minutes in seven of those games. Joiner ranks 6th in Big Ten play in three-point percentage (44.4%) and has scored in double-figures in five conference games.
Best Game: Jan. 20 at Rutgers
Joiner picked up her first 20-point game on the road against a Scarlet Knights team that came into the matchup with a stellar 15-2 record. She shot 7-9 from the field and 5-6 from three in Michigan State's 66-55 win. 
*All stats as of February 20, 2020