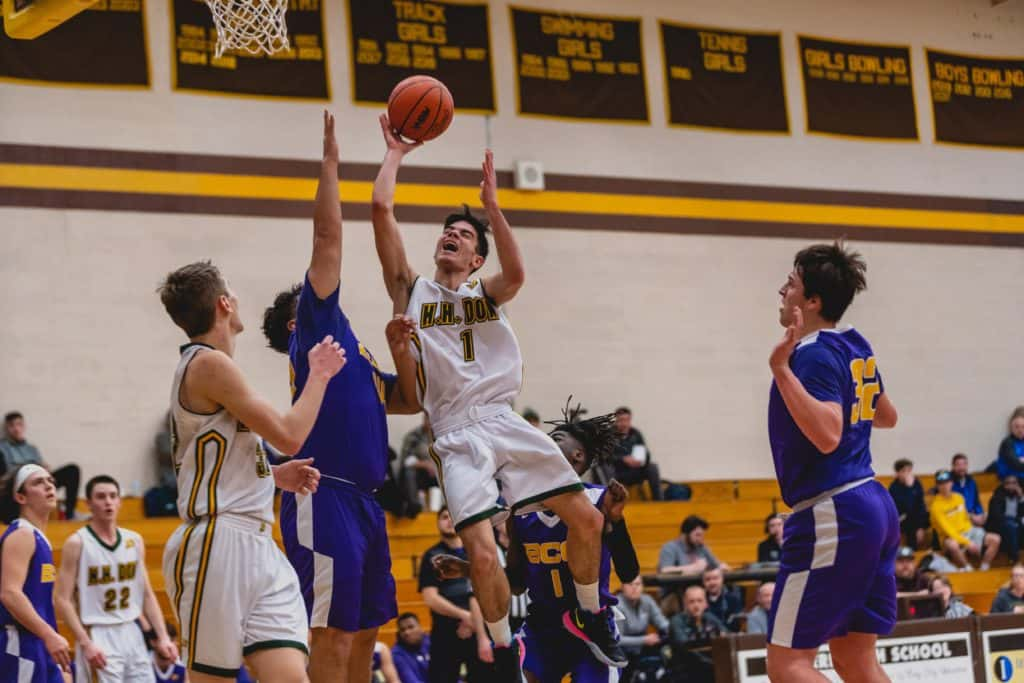 By Blake Froling
The third time was not the charm for Midland and Bay City Central on Wednesday night. 
The Chemics and Wolves had both already lost to their District Semifinal opponents twice in the regular season and were hoping for a reversal of fortune in the playoffs. Dow beat Bay City Central 68-51 and Mount Pleasant held off Midland 55-41.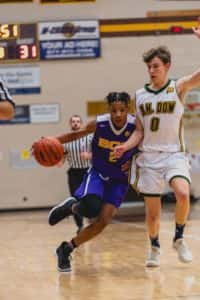 Both underdogs had the lead after the first quarter, but Dow and Mount Pleasant quickly surged ahead.
In game one, BCC senior Hayden Jatczak scored eight of his team's first 12 points to give the Wolves a one-point advantage after the first quarter. Then Jacob Tomsich took over.
The Dow senior dominated the game offensively in the second quarter, hitting two threes and making a number of difficult shots no matter what defense he faced. His 12 second quarter points helped give Dow a 33-26 lead at halftime. 
Defense took over in the third quarter for Dow. BCC was held to just six points in the frame as the lead widened to 21 and stayed in double-digits the rest of the game.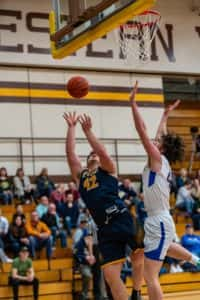 Tomsich finished with a team-high 22 points on four made three-pointers. Fellow senior Anthony Zeitler added 18. Jatczak finished his career at Bay City Central with 24 points and did all he could to keep the Wolves in the game.
Dow Chargers Final Stats
Jacob Tomsich: 22 points
Anthony Zeitler: 18 points
Justus Drabik: 12 points
Garrett Daniels: 8 points
Drew Huber: 4 points
Nathan Burgard: 2 points
Andrew Brandon: 1 point
Ryan Capp: 1 point
Bay City Central Wolves Final Stats
Hayden Jatczak: 24 points
Demarcus Allen: 14 points
Cameron Washington: 4 points
Jacob Brown: 3 points
Dustyn Lucas: 2 points
AJ Kaczanowski: 2 points
Michael White: 2 points
Mount Pleasant had beaten Midland by 30 and 36 points in their two regular-season meetings. The Chemics didn't seem to care. 
Midland came out with more energy and fight than Mount Pleasant in the first quarter, taking a 10-9 lead after the first eight minutes. Sophomore Drew Barrie outscored Mount Pleasant by himself for most of the first half.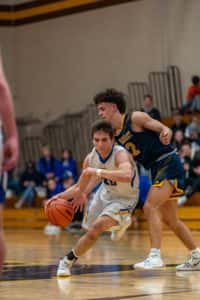 Mount Pleasant coach Dan Schell must have motivated his team in the huddle because they played inspired basketball in the second quarter. The Oilers exploited the size mismatch in the post with Tyler Huenemann and fed him the ball nearly every possession. He scored seven points and drew four fouls on Midland's bigs. Mount Pleasant outscored Midland 14-7 in the second quarter.
Joe Ostrowsky and Huenemann controlled the second half on both ends of the floor. Ostrowsky's on-ball defense frustrated Midland's guards, who struggled to break Mount Pleasant's full-court press. 
Midland cut the Mount Pleasant lead to five with about two minutes left in the third quarter, but a late surge by Mason Wojtusik and Ostrowsky pushed the lead back to 14. Midland's Jason Davenport banked in a three-quarter court shot at the buzzer to cut Mount Pleasant's lead to 45-34 after the third quarter. 
Huenemann's post play ensured that Midland wouldn't get any closer in the fourth quarter. He finished with a team-high 19 points. 
Mount Pleasant (20-1) will play Dow (8-14) on Friday night in the District Final at 6 PM at Bay City Western. The Oilers beat the Chargers 68-32 and 74-37 in the regular season. 
Mount Pleasant Oilers Final Stats
Tyler Huenemann: 19 points
Joe Ostrowsky: 15 points
Mason Wojtusik: 10 points
Alec Mills: 7 points
Tyrone Rios: 3 points
Carter Nostrant: 1 point
Midland Chemics Final Stats
Drew Barrie: 18 points
Nick Long: 6 points
Jason Davenport: 6 points
Zach Streich: 3 points
Eli Gordon: 3 points
Mason Tacey: 3 points
Bobby Van Valkenburg: 2 points