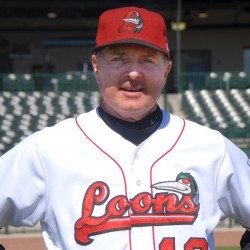 From Minor League Baseball
Minor League Baseball has announced it has selected longtime Los Angeles Dodgers Minor League Manager John Shoemaker as the recipient of the eighth annual Mike Coolbaugh Award. The award was created by Minor League Baseball in 2008 to honor the late Mike Coolbaugh, a long-time professional baseball player and coach. Mike spent parts of two seasons playing in the Major Leagues and parts of nearly 20 seasons with Minor League Baseball teams, including separate stints in the Texas League as a player and coach.
The Mike Coolbaugh Award is presented annually to an individual who has shown outstanding baseball work ethic, knowledge of the game and skill in mentoring young players on the field. Shoemaker will receive his award at the Baseball Winter Meetings Banquet on Sunday, Dec. 6, at the Gaylord Opryland Resort & Convention Center in Nashville, Tennessee.
"With numerous qualified instructors eligible for this award, I feel extremely fortunate to be the recipient of this year's Mike Coolbaugh Award," said Shoemaker, who led the Ogden Raptors to a 43-33 mark in his 22nd season as a manager in the Dodgers organization. "Past, present and future winners of this award have the distinct privilege on honoring the legacy of Mike Coolbaugh, who throughout his career displayed passion, determination and perseverance, all valuable traits for a professional athlete. I am grateful to Pat O'Conner, Minor League Baseball, the entire Los Angeles Dodgers organization and most importantly, the Coolbaugh family for recognizing me with this award."
Shoemaker's career in professional baseball began in 1977, when the Dodgers drafted him in the 35th round out of Miami (Ohio) University. Shoemaker played four seasons before logging 22 seasons as a minor league manager, eight as a hitting coach and five as an instructor, all in the Dodgers organization. His 1996 Savannah club won the South Atlantic League championship, while his 2001 and 2005 Jacksonville clubs claimed Southern League crowns. Shoemaker was named Southern League Manager of the Year in 2001 and 2006 and has a 1363-1328 (.507) record as a minor league manager.
"On behalf of the Dodger organization, I would like to commend John Shoemaker on winning the Mike Coolbaugh Award," said former Dodgers manager and current Special Advisor to the Chairman Tommy Lasorda. "I have known 'Shoe' for a long time and I can say without a doubt that he is one of the hardest workers I know. He continues to leave a great impression on the young ballplayers in the organization and I couldn't be prouder of him on all of his accomplishments."
"Each year, we recognize one individual who exemplifies the principles and values that Mike represented both on and off the playing field, and John is certainly deserving of this recognition," said Pat O'Conner, Minor League Baseball president and chief executive officer. "I am honored that we are able to pay tribute to Mike's legacy through this award, and on behalf of Minor League Baseball, I congratulate John on being selected as this year's recipient."