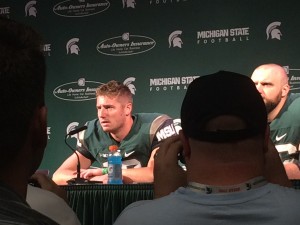 EAST LANSING, Mich. — The No. 5 Michigan State Spartans bolstered their hopes of being National Title contenders by outlasting the No. 7 Oregon Ducks 31-28 in a "fast and furious" win.
Key fourth down conversions, including a 28-yard throw in the third quarter from senior quarterback Connor Cook to senior wide receiver Aaron Burbridge, proved to be the difference in a game that lived up to all the preseason hype.
"The game delivered in means of intensity," Michigan State head coach Mark Dantonio said. "It was fast and furious out there. Things were happening at a very fast rate."
In true Oregon fashion, the Ducks wasted no time on offense scoring on the first drive of the game. The Ducks covered 75 yards in 13 plays with sophomore Royce Freeman punching in a 2-yard touchdown to take the lead.
While it may be the Ducks who are known for quick drives, it took the Spartans only one minute and eight seconds to find pay dirt.
Redshirt freshman running back Madre London busted a 62-yard run on his first touch of the night to get MSU in the red zone. Two plays later, MSU senior quarterback Connor Cook found tight end Josiah Price in the left side of the end zone to tie the game 7-7.
"We were able to for the most part run the ball pretty good," co-offensive coordinator Dave Warner said. "Madre started hot."
It was at this point the MSU defense took center stage. Montae Nicholson intercepted transfer quarterback Vernon Adams Jr. with 1:01 left in the opening quarter. Then, MSU's defense held Oregon on a four-play goal line stand in the second quarter.
"Our defense wants to get sacks, it wants to get tackles for loss, and we want to get turnovers," senior defensive end Shilique Calhoun said. "We did all of those today."
Though the Ducks (1-1, 0-0) trailed 14-7 at halftime, the game took a dramatic turn as Oregon's Bralon Addison returned a punt 81 yards for a touchdown to tie the game.
MSU was not fazed and went on a methodical five-minute, 11-play drive to take the momentum back. It was on this drive that Burbridge made his 28-yard catch on fourth down, which set up freshman running back L.J. Scott to score on a 6-yard run.
"After a big punt return, we go down a score," Dantonio said. "Immediately after that we respond. Oregon was about to seize the momentum, but we took it back."
Cook was 20-of-32 for 192 yards in the game, while Burbridge hauled in eight catches for 101 yards and a score.
"Burbridge is a big play wide receiver. He has a great ability to catch the ball in traffic and win those 50/50 balls. He's always had great talent."
The Spartans (2-0, 0-0) followed this drive up with another long drive, eating up five minutes and 29 seconds of game clock and extended the lead to 24-14.
Oregon started to make a comeback in the fourth when Adams scored on a two-yard run, but it was Michigan State who once again found an answer.
Scott busted a thunderous 38-yard run, breaking the tackles of three Ducks along the way.
"When I handed the ball to L.J. and saw him break those tackles, it reminded me a little of Le'Veon Bell," Cook said. "I was at the Notre Dame game my freshman year.
Watching the runs L.J. broke reminded me a lot of him. To have a young running back like him is a good thing because he will be able to continue to improve."
Scott finished the night with two touchdowns and 76 yards on 11 touches.
In the end Oregon left chances on the field including Adams overthrowing senior wide receiver Bryon Marshall in the end zone. But, the Michigan State defense was able to hold on for a dramatic 31-28 victory.
"Credit to our defense, they finished the game," Cook said. "Thank God for our defense."