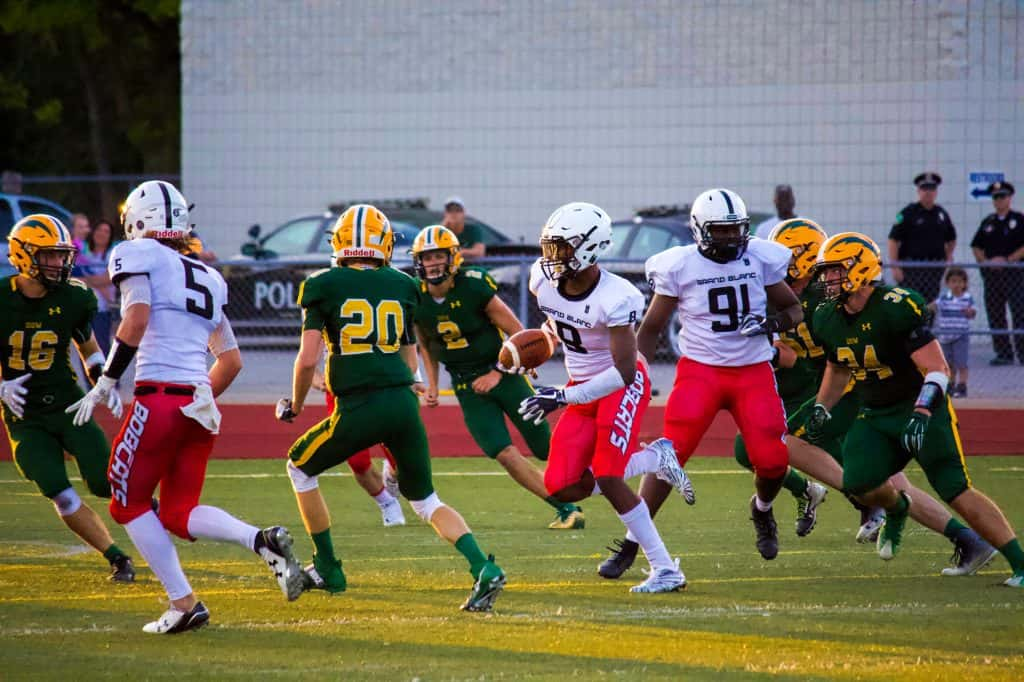 Calling the Midland Dow Chargers offense the "Wild Wild West" in the weeks prior the game, Grand Blanc Bobcats head coach Clint Alexander was not sure how his defense would respond.
The Bobcats stepped up and secured a 38-35 victory with five interceptions of Dow senior quarterback Shane Astrike.
The win would not have been possible without the leg of Grand Blanc senior kicker Colton Alexander. Senior quarterback Ryder Brotebeck found senior receiver Luke Bogan on 4th-and-9 to extend the drive, leading to a 37-yard field goal to break the tie with 1:42 left.
"We won that game the way we've survived everything else," Alexander said. "Last year, we instilled in these guys to not quit when things go wrong. That field goal was huge. (Colton) had been cramping up, so I was fingers crossed."
Kortez Toles, a senior with offers from Central Michigan and Bowling Green, managed two interceptions, while junior Layne Pickard, junior Dane Kilgore, senior Nathan Synder and junior Deon Harrison each registered one of their own. Junior defensive back Myles McNeal had six passes defended.
"We had a great game plan this week in practice and stuck to it," Toles said. "The quarterback made tough passes, we just stayed mentally tough, stayed on our man and made plays. We knew it was going to be like a playoff game, which it was."
A superb performance from @mylesmcneal717 and @KortezToles leads to a 38-35 victory for @GB_Bobcat_FB over Dow. The DB duo talked with @brad_tunney about the team's five interception performance. #LocalSportsLeader ???? pic.twitter.com/VyZldQOk32

— ESPN 100.9-FM (@ESPN1009) August 24, 2018
Facing the Chargers (0-1) in Grand Blanc's first Saginaw Valley League game in school history, Brotebeck was nearly perfect taking care of the football. He completed 17-of-23 passes for 169 yards and one touchdown, adding nine carries for 40 yards and two more scores on the ground.
"He can do great things, but boy he worries you with the risks he takes," Alexander said of Brotebeck. "Sometimes they pay off, but sometimes it's like, 'What are you throwing across the field with the game on the line?'
"I'll tell you what, he is tough, and these guys love him."
With 1:06 left in the first quarter, Grand Blanc quickly showed its athleticism on a 30-yard touchdown reception by junior Latrell Fordham. The Bobcats (1-0) went on to take a 17-0 lead after a six-yard scamper into the end zone by Brotebeck.
Dow star senior Nick Sierocki put points on the board with a three-yard score as 4:49 remained in the second quarter, but on a kickoff a few minutes later, Grand Blanc senior transfer Malik Bashir-Cager went 75 yards to the house.
Bashir-Cager, coming from Flint Carman-Ainsworth, was one of three key players to transfer to the Bobcats for the 2018 season. Others include Fordham from Goodrich and junior center Shamar Poole from Burton Atherton.
The Bobcats remained ahead until 3:37 to play the fourth quarter when Astrike tossed a 23-yard touchdown to junior tight end Evan Metiva to tie the game, 35-35.
Touchdown, Dow! Evan Metiva scores to tie the game, 35-35, with 4:20 left. pic.twitter.com/Sh9eQlZxLz

— ESPN 100.9-FM (@ESPN1009) August 24, 2018
Following Grand Blanc's late field goal, Astrike and the Chargers were unable to put together a response of their own. Astrike finished 15-of-36 through the air for 279 yards, two touchdowns and five interceptions. He took 10 carries for 78 yards and one score.
Sierocki was effective as a receiver and runner, combining for 111 yards on 19 touches with one touchdown.
"Dow does what they do so well," Alexander said. "They run that offense well, so just getting that quarterback out of rhythm and dealing with the quickness of the quarterback was difficult. All of them can get you, and they play tough defense."
Grand Blanc travels to Saginaw Heritage in Week 2 on Thursday, Aug. 30. Meanwhile, Dow plays SVL powerhouse Lapeer on the road.