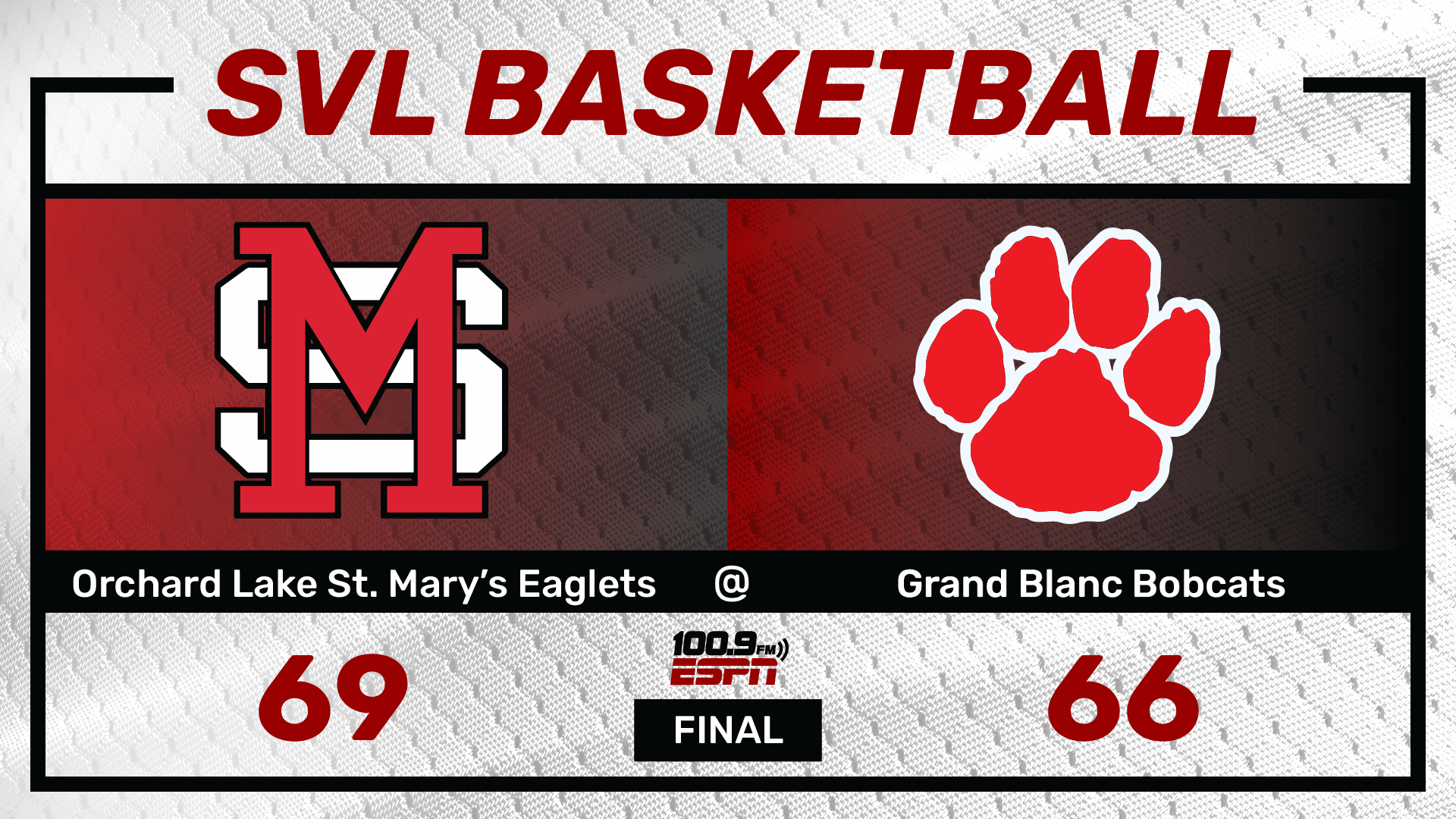 We were treated to one of the best matchups of the season on Saturday night as No. 1 Orchard Lake St. Mary's beat No. 6 Grand Blanc 69-66 at the GottaGetIt Hoop Classic.
Future college players filled both rosters, but the two that stood out were OLSM's Lorne Bowman and Grand Blanc's Ty Rodgers. Bowman, who is committed to Wisconsin, dropped a game-high 28 points. Rodgers, who is the second-best sophomore in the state, responded with 18 points of his own, including a vicious dunk in the final seconds of the game.
Bowman and St. Mary's controlled the tempo early, racing out to a 37-25 lead at halftime. Rodgers picked up his second foul early in the second quarter and was forced to sit the rest of the half, allowing the Eaglets to pull ahead.
Grand Blanc's offense ignited in the 3rd quarter as the Bobcats scored 25 in the frame to pull within one, 51-50. The supporting cast of Nate Brown, Braylon Neal and RJ Taylor combined for 17 of those 25 points for the Bobcats.
The Eaglets kept Grand Blanc at bay for most of the fourth quarter and the Bobcats could never take the lead. Junior guard Jacob Carlson, who played sparingly for Grand Blanc, hit a corner three with under 1:30 to play to tie the game at 62. OLSM's Julian Roper II made back-to-back buckets to push the Eaglets ahead by four with less than a minute remaining. Mark Miller responded with a layup of his own to cut the lead to two a few seconds later.
Kareem Rozier split a pair of free throws for St. Mary's with 20 seconds left to make the score 67-64 when we saw the most electrifying play of the game. Rodgers was fouled on a layup attempt and missed both free throws, but he got his own rebound on the second miss and threw down a rim-shaking dunk to pull Grand Blanc back within one. That was as close as the Bobcats would get, as Bowman sunk a pair of free throws to ice the game.
Orchard Lake St. Mary's final stats
Lorne Bowman – 28 points
Kareem Rozier – 15 points
Julian Roper II – 12 points
Jason Drake II – 8 points
Peter Nwoke – 6 points
Grand Blanc final stats
Ty Rodgers – 18 points
Mark Miller – 16 points
RJ Taylor – 10 points
Nate Brown – 8 points
Braylon Neal – 8 points
Jacob Carlson – 3 points
Connor Williams – 2 points
Amonte' Allen-Johnson – 1 point