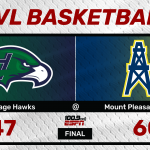 In a battle of the top two teams in the SVL North, the Mount Pleasant Oilers beat the Heritage Hawks 60-47.
Mount Pleasant received a lift off the bench with senior guard Mason Wojtusik returning to the lineup for the first time this season. He led the Oilers with 20 points and provided another scoring threat off the dribble along with Joe Ostrowsky, who also finished with 20 points.
Heritage came into the game averaging 61 points per game, but the stingy defense of the Oilers held them to just six points in the first quarter. The Hawks picked things up in the second and trailed 24-20 at halftime. Heritage didn't make a single three-pointer all night and could never put a sustained run together. 
Ostrowsky and Wojtusik took over in the fourth quarter to help seal the game for Mount Pleasant. They combined for 19 points in the quarter to extinguish a late Heritage push and seal the victory 60-47.
Up next: Heritage faces Carman-Ainsworth at home on Tuesday night and Mount Pleasant hosts St. Johns.
Confirmed: @mason_wojtusik is good at basketball.

The Mount Pleasant senior dropped 20 points in his first game of the season. He talked with @BFroling about how it felt finally getting back into game action for the undefeated Oilers. pic.twitter.com/I03r2wfQvg

— ESPN 100.9-FM (@ESPN1009) January 11, 2020
Mount Pleasant final stats
Mason Wojtusik: 20 points
Joe Ostrowsky: 20 points
Jack Payton: 6 points
Tyler Huenemann: 6 points
Tyrone Rios: 4 points
Josh Schell: 3 points
Alec Mills: 1 point
Heritage final stats
Christian Dobis: 10 points
Cade Beall: 8 points
Chris Parker: 8 points
Evan Booker: 5 points
Parker Day: 4 points
DaRon Sherman: 4 points
Daniel Trevino: 3 points
Santino Chacon: 3 points
Quinn Konuszewski: 2 points