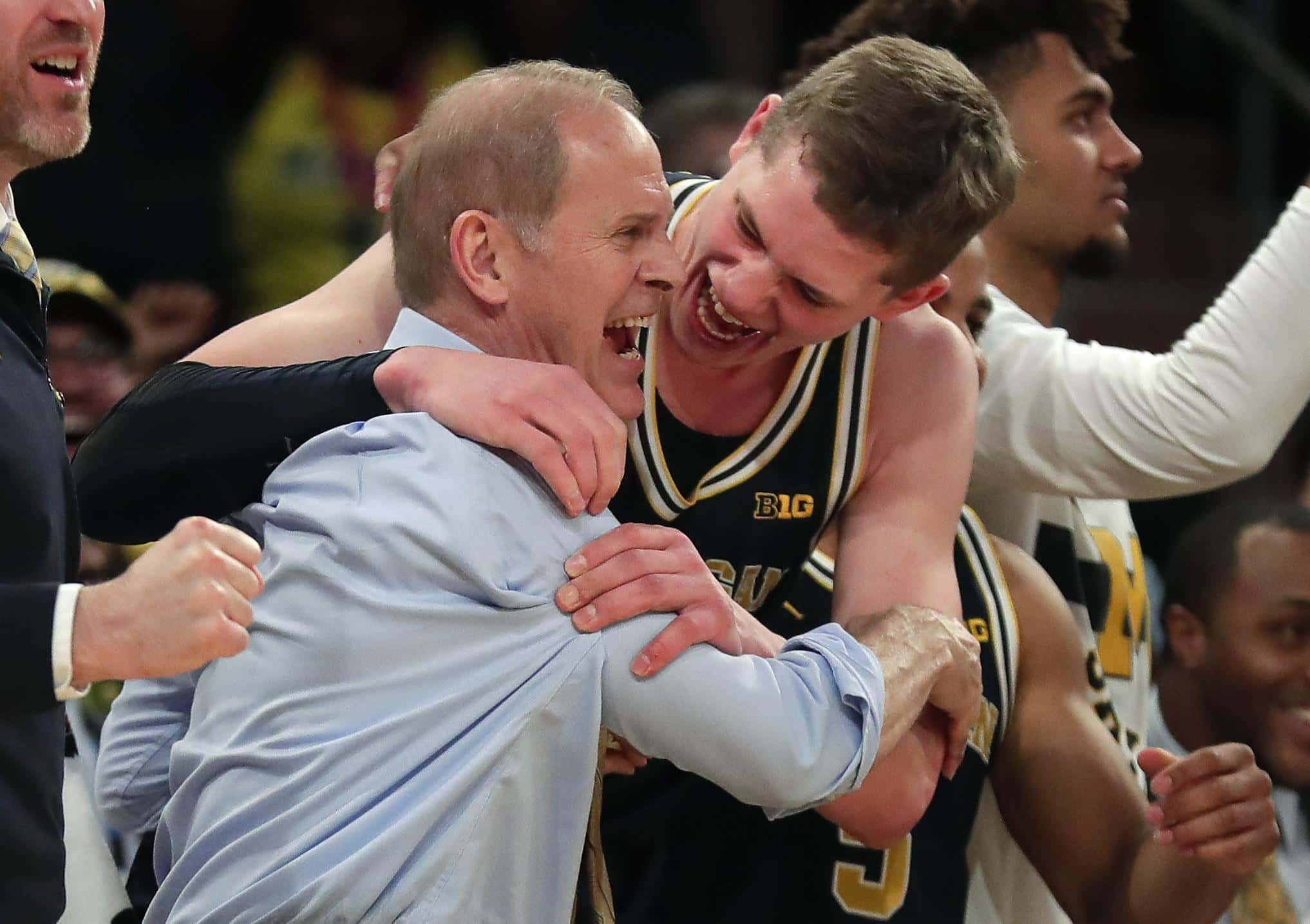 By @EvanPetzold
At 12:12 p.m. on June 6, Michigan fans across the globe heaved a sigh of relief.
John Beilein announced on Twitter he would be returning to Michigan for the 2018-19 season amidst an opportunity to become the next head coach of the Detroit Pistons.
I love the University of Michigan and I am excited about coaching our Men's Basketball Team next season and in the years to come ! Let's go hang some more banners at "THE GREATEST UNIVERSITY IN THE WORLD "#GoBlue

— John Beilein (@JohnBeilein) June 6, 2018
The 2018-19 season will be Beilein's 12th in charge of the Wolverines. Staying in Ann Arbor is a good choice for Beilein. Actually, it's the perfect choice.
First and foremost, the Pistons are not a marvelous NBA team. Meaning, at 65 years old, Beilein would have to continue to work on the rebuild. Plus, as long as LeBron James remains in the NBA or the Golden State Warriors continue with its super team, he would most likely never win an NBA Championship.
However, odds are more favorable for Beilein to take the Wolverines back to the NCAA Tournament title game, as he did in 2013 and 2018. Beilein recently established himself as a prime recruiter in the NCAA, hauling his most notable crowd of prospects in the 2018 class.
4-star SF Ignas Brazdeikis (No. 37) from Mono (Ont.) Orangeville Prep
4-star PF Brandon Johns (No. 66) from East Lansing (Mich.)
4-star PG David DeJulius (No. 102) from Detroit (Mich.) East English Village Prep
4-star C Colin Castleton (No. 122) from Daytona Beach (Fla.) Father Lopez Catholic
3-star SG Adrien Nunez (No. 297) from Oakdale (Conn.) St. Thomas More
Less than a week ago, Beilein added the first member of his 2019 recruiting class – Denton (Texas) Guyer four-star small forward Jalen Wilson, ranked as the No. 34 player in the nation – and received news that small forward Charles Matthews pulled his name out of the 2018 NBA Draft to return to school.
Essentially, Beilein's future is brimming with stars.
Michigan has a projected 2018-19 starting lineup of junior point guard Xavier Simpson, sophomore shooting guard Jordan Poole, senior small forward Matthews, sophomore power forward Isaiah Livers and center Jon Teske.
To go with a profound starting lineup, the depth of the Wolverines will be a game-changer. Freshman point guard DeJulius, sophomore point guard Eli Brooks, freshman small forward Brazdeikis and freshman small forward Johns should see significant playing time. At the center position, redshirt sophomore Austin Davis will backup Teske.
Beilein is at the heart of capping off a legacy at Michigan. Instead of being handed the pieces, Beilein built it. He single-handedly assembled the culture of Michigan basketball, in an honest way.
#GoBlue 〽???? pic.twitter.com/AJMy2yKdi0

— Michigan Men's Basketball (@umichbball) June 6, 2018
In the 2017-18 season, Michigan set a program record for wins, going 33-8 on the season. This was after the team lost leaders Zak Irvin and Derrick Walton Jr. to graduation, role players Mark Donnal and Andrew Dakich to other schools and D.J. Wilson to the Milwaukee Bucks in the NBA Draft.
As the icing on the cake, Michigan assistants Jeff Meyer and Billy Donlon departed from Ann Arbor to take jobs as assistants at Butler and Northwestern, respectively.
Despite losing its main core on and off the court from a year before, Beilein marched the Wolverines to the 2018 NCAA Tournament National Championship game against Villanova against all odds. Even though Michigan lost, the group of young men accomplished more than anyone foresaw.
Going to the Pistons would not enhance Beilein's legacy because Michigan is his legacy. He would inherit an injury-prone point guard Reggie Jackson, a weak shooting guard core of Stanley Johnson, Reggie Bullock, Luke Kennard and a frontcourt combination of Blake Griffin and Andre Drummond, which has yet to prove itself.
Would he make the team better? Of course. But not enough to actually make a difference.
Beilein is a natural developer of talent. Players like Tim Hardaway Jr. in 2013, Mitch McGary and Nik Stauskas in 2014, Caris LeVert in 2016 and D.J. Wilson in 2017 – Beilein developed them from average college players to first-round picks in the NBA Draft.
At 5-foot-11, 165 pounds, Spike Albrecht received interest from Michigan in March 2012. Albrecht did not have a Division I offer, but Beilein wanted him. He committed the following April and enrolled in May.
Then, against Louisville in the 2013 NCAA Tournament National Championship, the freshman scored 17 points in the first half. If that's not proof of Beilein's developmental talents, then what is?
Beilein turns boys into men. He's marvelous at it and has been for the entirety of his career. In the NBA, he would not have that influence on athletes. Beilein would only be a coach for a team that has made the NBA Playoffs just once in the past nine seasons – no more recruiting, development of teenagers or championship runs.
According to The Athletic's Brendan F. Quinn, Michigan and Beilein are close to agreeing on a two-year extension, which would pay the coach nearly $4 million per year.
"I don't want John Beilein to coach any other place," said Michigan athletic director Warde Manuel.
Beilein is here to stay – as a Wolverine.