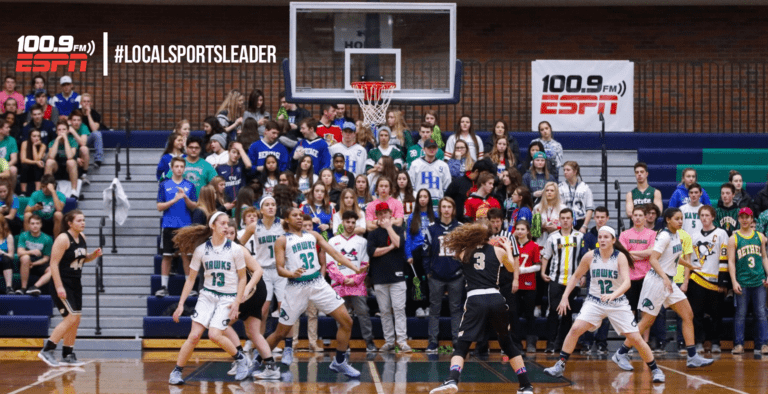 ESPN 100.9-FM is the Great Lakes Bay Region's home for local high school football and basketball presented by Forward Corporation.
From September to November, find Game of the Week football coverage every Friday night with a replay of the entire game the following Monday night. From December through March, our focus shifts to the hardwood with boys and girls coverage carried through the conclusion of the MHSAA playoffs.
Listen to coverage of high school athletics on the radio at 100.9-FM, online at espn1009.com, on the TuneIn radio app, or on the ESPN 100.9-FM mobile app.
For sponsorship opportunities, contact Director of Sales Rich Juday (989-488-3041 or rjuday@espn1009.com)
2022-23 HIGH SCHOOL BASKETBALL COVERAGE SCHEDULE
Friday, December 9 – Freeland at Bridgeport (Boys) 6:45
Friday, December 16 – Dow at Midland (Girls/Boys) 5:25
Tuesday, December 20 – Bay City Western at Garber (Girls) 6:45
Friday, January 13 – Frankenmuth at Freeland (Boys) 6:45
Tuesday, January 17 – Bay City Western at Mount Pleasant (Girls) 6:45
Friday, January 20 – Midland at Midland Dow (Girls/Boys) 5:25
Tuesday, January 24 – Saginaw at Heritage (Boys) 6:45
Friday, January 27 – Heritage at Midland Dow (Boys) 6:45
Tuesday, January 31 – Midland Dow at Saginaw (Boys) 6:45
Tuesday, February 7 – Bay City Central at Bay City Western (Boys) 6:45
Saturday, February 11 – Arthur Hill at Saginaw (Boys) 12:45
Tuesday, February 14 – Saginaw Nouvel at Standish-Sterling (Boys) 6:45
Friday, February 17 – Freeland at Frankenmuth (Girls/Boys) 5:25
Thursday, February 23 – Farwell at Meridian (Girls) 7:15
*Schedule subject to change