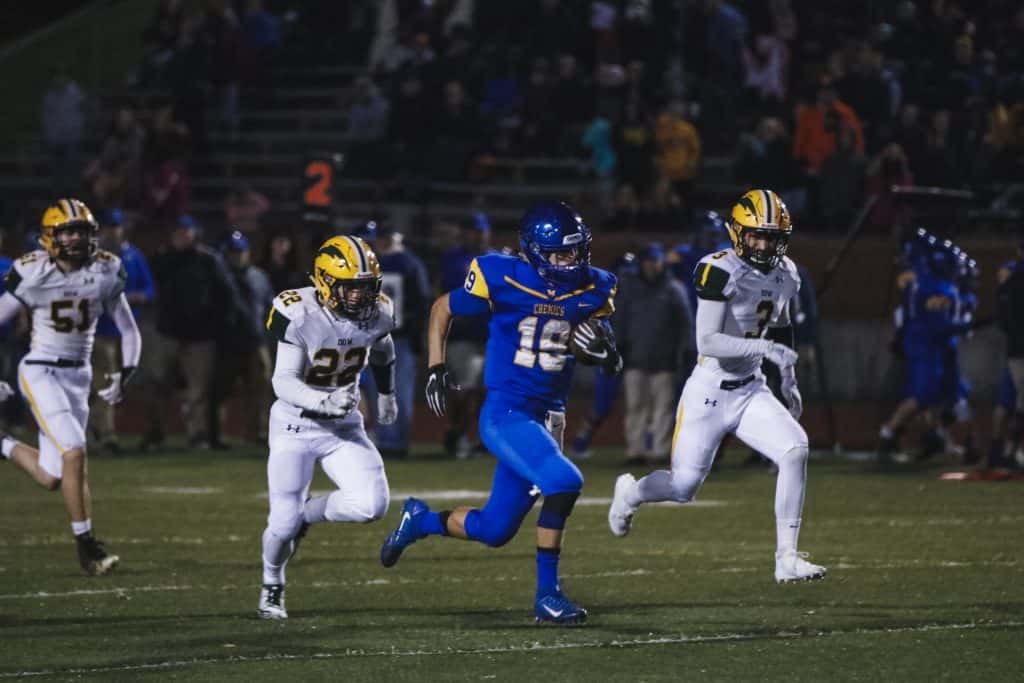 Facing a fourth-and-long from near midfield, Dow High School was down to one final play against arch-rival Midland High School.
Senior quarterback Shane Astrike rolled right and, before being hit, heaved the football to fellow senior receiver Chase Perry. Instead of Perry making a play, it was Midland sophomore Eli Gordon.
Gordon secured the football in the end zone as time expired – an interception to secure a 14-8 victory against Dow at Midland Community Stadium.
The win earned the Chemics (6-3, 6-1 SVL Blue) the city championship and an automatic bid to the MHSAA Playoffs.
"Both teams played their guts out," said Midland coach Eric Methner. "It's a shame one of these teams had to lose. I'm really proud of our kids."
As for the Chargers (5-4, 5-2 SVL Blue), they must wait until the 2018 MHSAA Football Playoff Selection Show at 7 p.m. on Oct. 21 to find out if there will be another practice come Monday.
On Dow's second-to-last drive of the game, Eli's older brother, Christian Gordon, came away with an interception. It was not the first big play the senior made on Friday night.
Christian accumulated 174 yards of total offense, of which 133 were on the ground. His only reception of the game went for 41 yards from sophomore quarterback Al Money. With 7:33 left in the first quarter, the running back found the end zone on a 1-yard carry for a 7-0 edge.
Nearing the end of the first half, Christian struck again – a 2-yard rushing touchdown for a 14-0 lead heading into halftime.
"We worked so hard, through ups and downs, to get to this point," Christian said following the game. "I can't think of anything that'd feel better than this."
Dow's only score of the game came courtesy of a 57-yard quarterback scramble from Astrike with 10:48 to play in the game. His two-point conversion attempt was successful.
Astrike finished 8-of-25 through the air for 72 yards and two interceptions. He had nine carries for 133 yards along with a 21-yard reception. Money, who was called up from the JV team prior to Week 3, threw for 58 yards on three completions.
"Al (Money), it was like game management," Methner said. "Even though we had the win, we didn't want him to do anything crazy. We just had a great push up front."
Through eight weeks, Dow's Nick Sierocki accumulated 1,458 yards and 22 touchdowns. He was inactive for the final regular season game of his high school career due to an injury.
"I thought a lot of guys stepped up and played hard, and I'm really proud of how everyone rallied, and I'm really proud of Nick's continued leadership this week," said Dow coach Jason Watkins.
While Midland has officially made the playoffs, the program will wait until Selection Sunday to find out its Week 10 matchup in Division 2.