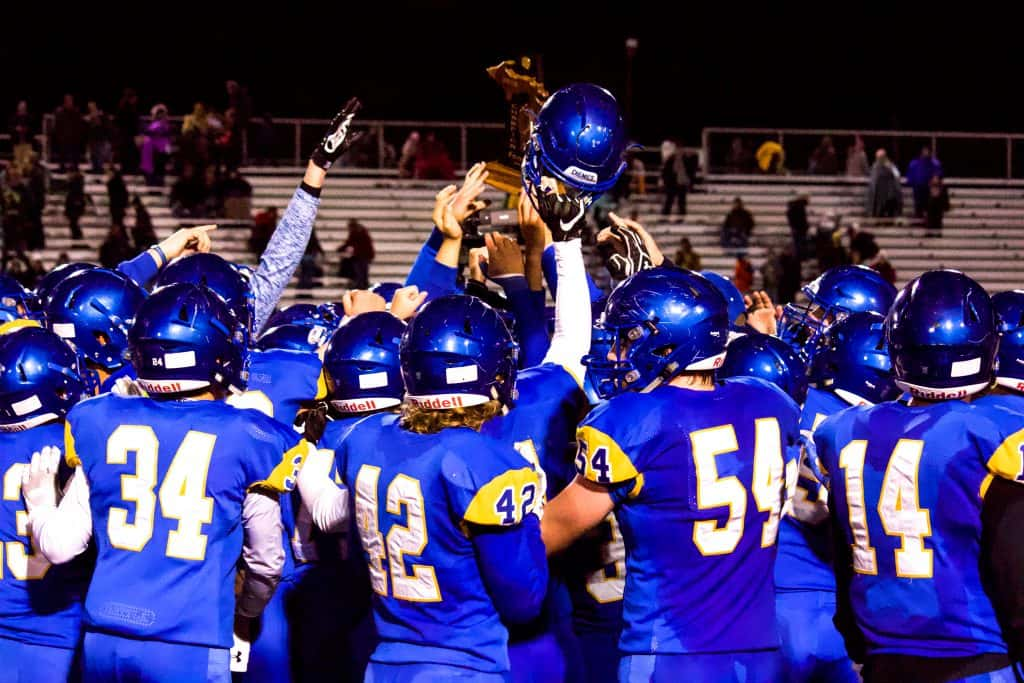 It's been five years since Midland advanced to the MHSAA State Quarterfinals.
On Nov. 2, the Chemics had the opportunity to do so. The only challenge was an in-city rivalry game against Dow for a Division 2 district championship.
Through the gritty performance of sophomore quarterback Al Money, quick feet of senior Christian Gordon and hard-hitting defense of senior Kadin Jacobs, Midland prevailed for a 38-19 victory at Midland Community Stadium.
"It feels great to get this win for the seniors. It feels great to get the city championship times two," Money said to the Midland Daily News.
Midland coach Eric Methner hoisted the regional championship trophy, and his team quickly surrounded him. Screams of joy filled the stadium from players, coaches and fans.
The Chemics, now 8-3 on the season, were 0-2 to open the 2018 campaign, with losses against Traverse City West and Flint Carman-Ainsworth.
Money replaced Jacobs at quarterback and quickly created a legacy of his own, following in the footsteps of his older brother, Martin.
Since Money took over under center, Midland has won eight of its last nine games. The team compiled a number of achievements – regular season city champions, two wins against arch-rival Dow, a district title and a trip to the state quarterfinals.
Once the team was 3-3 overall, Money knew winning every game the rest of the way was vital to making the playoffs.
So, that's exactly what they did. In order, the Chemics dismissed Bay City Central, Bay City John Glenn and Dow. The next test was a Division 2 pre-district game against Swartz Creek, a game Midland was not favored to win.
The result, once again, was a win ­– by 22 points.
"I'm extremely excited for these kids," Methner said. "They've faced adversity and they've done all we've asked of them. I'm just proud of them."
Even though one side of the city was let down, Midland fans are finally receiving the fruits of their team's labor.
With Midland's 19-point win, Money and Co. advanced to the state quarterfinals against Walled Lake Western. The game will be played in WLW at 7 p.m. on Friday.
The Warriors (8-3) have defeated Fenton and South Lyon in the playoffs. The team, coached by Alex Grignon, is led by Boston College three-star quarterback commit Sam Johnson, three-star offensive tackle Spencer Brown, three-star safety C.J. Brown, 6-foot-8 offensive guard Jacob Dean and wide receiver Justin Gabriel.
Johnson picked Boston College over Michigan, Cincinnati, Indiana, Iowa, Missouri and Temple. At 6-foot-4, 195 pounds, he is ranked as the No. 22 pro-style quarterback in the 2019 class.
The last time Midland advanced to an MHSAA semifinal game was in 2007 when they beat Lowell 31-28 before losing to Detroit Martin Luther King 47-21 in the state title game.