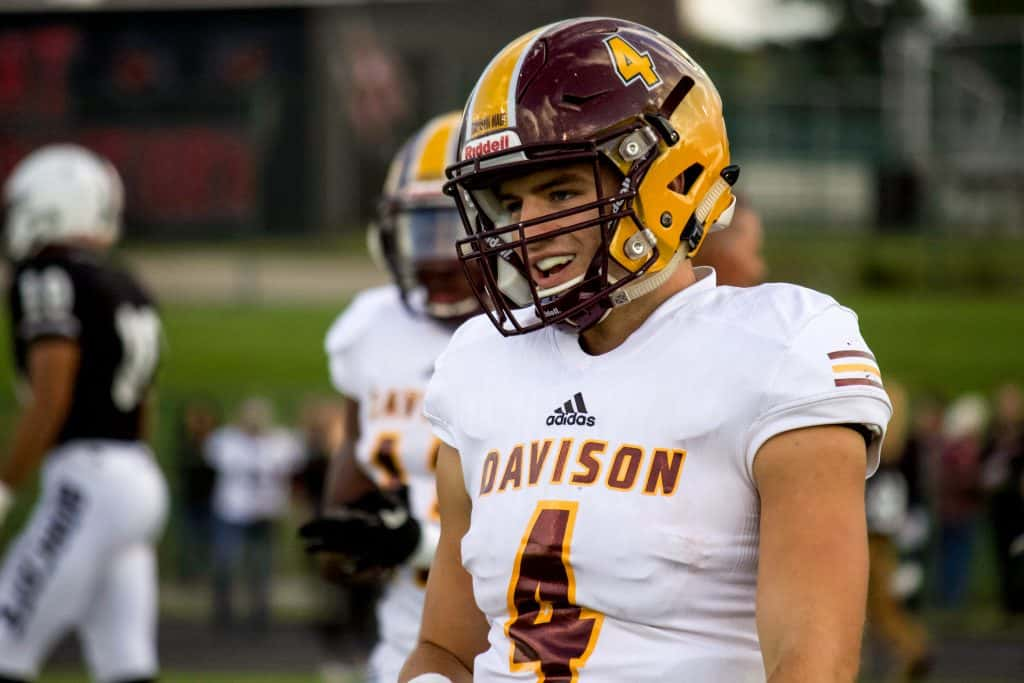 Coming into Friday night's game, the Davison Cardinals and Grand Blanc Bobcats were listed as the top two teams in Genesee County, each boasting 4-0 records.
The Cardinals (5-0) shocked the Bobcats (4-1) with a 49-7 victory at Frank Thomas Field, led by senior quarterback Cannon Hall's 215 yards and four touchdowns from scrimmage.
Nobody saw it coming, except the Cardinals.
"We knew we would win," Hall said. "We wanted 50 (points) though, so that's upsetting."
On the first offensive play from scrimmage, Grand Blanc junior quarterback Tylor Leedom tossed a 70-yard pass to junior wide receiver Latrell Fordham for a touchdown. The Cardinals, led by Hall, responded.
"We knew they were going to make big plays," said Grand Blanc head coach Jacob Weingartz. "Obviously, we didn't want it to be the first play of the game. We got the ball back and didn't falter. They couldn't stop our run game, so why throw?"
The senior quarterback marched his group down the field and capped Davison's first drive with a one-yard rushing score to tie the game with 8:44 to play in the first quarter.
Davison's next drive resulted in the same – a touchdown.
Senior running back Michael Jamerson broke a few tackles, including one from Grand Blanc's Nathan Snyder, at the two-yard line for a 25-yard rushing score.
Jamerson finished with 21 carries for 161 yards and two touchdowns in Weingartz's offense.
"It doesn't matter how big the opposing team is, we have a lot of heart," Jamerson said following the game. "We don't care who we play."
Once again, the next drive featured another score. This time, it was Hall breaking his father Roy Hall's school record. In 1987, Roy carried the ball for 84 yards to the end zone. It stood as the longest touchdown from scrimmage until his son made it 21-7 with 37 seconds remaining in the first quarter.
Hall took a direct snap and let loose for 90 yards, snapping his father's record and giving his group a two-score lead after one quarter of action. He quickly dished all the credit to his offensive line.
"They played amazing," Hall said. "That's their best game by far. I think everyone did their job and toughed it out."
Jamerson and Hall went back-and-forth on touchdown scores for three and 15 yards, respectively, to start the second quarter. Already ahead 35-7, Hall made it 42-7 on a 28-yard touchdown over the top to senior receiver Max Slezak to end the first half.
The only other score in the game was a 13-yard run from junior tailback Caleb Smith. It pushed Davison's edge to 49-7 over Grand Blanc, which held until the final whistle.
Under second-year head coach Clint Alexander, Leedom only managed to complete 5-of-16 passes for 141 yards, one touchdown and one interception. Senior running back Ryder Brotebeck led the ground game but only managed four carries for 23 yards. Fordham chipped in two receptions for 74 yards and a score.
Davison was predicted to lose in three of its five games this season. Instead, it's a 5-0 start for the Cardinals.
"They are a hard-working group of guys," Weingartz said. "They showed it's not the size of the dog in the fight, it's the size of the fight in the dog. Offense, defense, special teams was amazing.
"Words can't express how proud I am of those 35 guys."
Davison returns home to play Flint Southwestern at 7 p.m. at Sept. 28. Grand Blanc aims to regroup for a tough Saginaw Valley League battle against undefeated Lapeer.