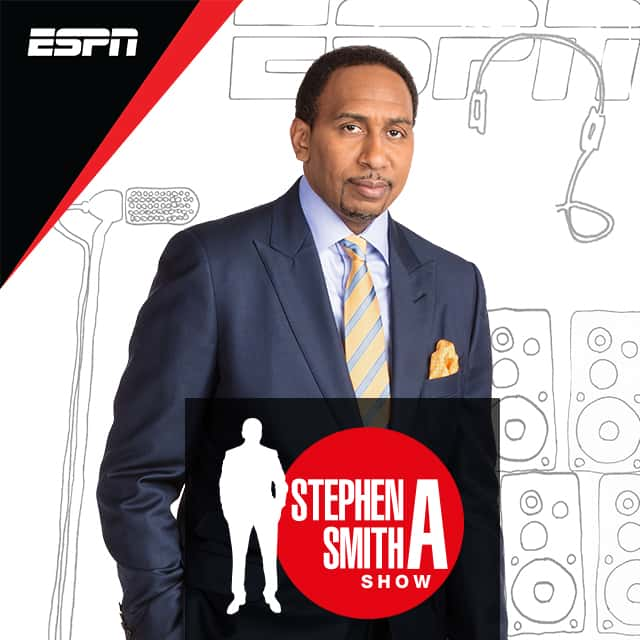 Stephen A. Smith, along with Max Kellerman, is a featured commentator on ESPN's First Take weekdays from 10 a.m. to 12 p.m. ET, discussing and debating the sports topics of the day. He joined First Take on a permanent basis in 2012.
In September 2014, Smith began hosting the daily Stephen A. Smith Show on SiriusXM's Mad Dog Sports Radio. The two-hour show is produced and broadcast from ESPN Audio's headquarters in Bristol, Conn.
From 2011 until 2014, Smith hosted a two-hour (1-3 p.m.), weekday local show on ESPN Radio 98.7FM in New York. For one year, starting in 2011, he also hosted a local show on ESPN LA 710AM in Los Angeles, covering both coasts.
Smith made a variety of contributions to ESPN from 2003-08. Smith hosted The Stephen A. Smith Show on ESPN Radio from 2005-08. He was also the host of ESPN2's Quite Frankly with Stephen A. Smith, a one-hour show featuring sports news, commentary on sports issues, and interviews, from 2005-07.
Smith joined ESPN in 2003 as an analyst for the network's NBA Shootaround (since renamed NBA Countdown) pregame show. He regularly appeared on ESPN's SportsCenter, ESPNEWS, ESPN2's First Take and as guest host of Pardon the Interruption and Jim Rome is Burning.
Smith also hosted a morning show on Fox Sports Radio. Previously, Smith held several positions – most recently as a general sports columnist – during 16 years with the Philadelphia Inquirer (1994-2010). Prior to joining the Inquirer, Smith was a reporter with the Winston-Salem Journal, the Greensboro News and Record and the New York Daily News.